There's no doubt that the men of Phi Kappa Psi have proven to be some of the most caring, giving and compassionate individuals in all of Greek life.  Their members regularly exemplify a commitment to the mission of, "The Great Joy of Serving Others."  While their chapters have shown a year-round commitment to this duty of service, the opportunity to have a collaborative, Fraternity-wide push for giving only happens a few times a year.  That is what makes the springtime so special at Phi Kappa Psi, as the Fraternity has again participated in the National Week of Service (NWS).
A dedicated time of the year where undergraduates and alumni can come together and give back to the community in a collective capacity, NWS was formerly recognized as National Day of Service. However, the effort was expanded to a week to grant greater flexibility to chapters and Alumni Associations to identify needs in their local communities and create service events.
In 2018, participation occurred on a national scale that was consistent with the dedication members have shown in the past.  Some chapters and associations were new participants in the event, while others continued their annual tradition of giving.
Members of the Central Virginia Alumni Association kept up with their annual festivities of service by working with the Virginia Eta chapter to do a street cleanup in Richmond, Virginia.  Connecting alumni with undergraduates, brothers worked hand-in-hand to clean up the area outside of the Virginia Commonwealth University Students Commons.
Brothers from the Indiana University Colony spent a weekend working with the Boys & Girls Club of Bloomington, Indiana, cleaning up Camp Rock, a summer day camp for youth.  Tackling a number of tasks during their event, members helped rake leaves, clear logs from the campground, paint and stain trim on buildings, repair and relocate campground equipment, clear drainage pipes, organize storage space, perform building maintenance, and more.  Their work helped ensure that Camp Rock will continue serving as a fun, safe, and educational place for youth in central Indiana.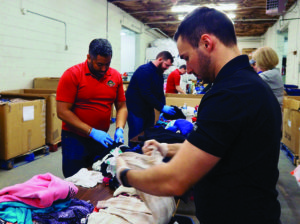 The staff at Phi Kappa Psi Headquarters spent time working with Wheeler Mission, a Christian organization providing clothing, food, shelter, and programming for the homeless.  The staff worked in the donation center, helping to receive, fold, and organize clothing and other items for distribution.  Wheeler Mission's work not only benefits central Indiana, but other parts of the globe as well.  Clothes that aren't given to those seeking aid will be sold in Wheeler Mission's thrift store to generate money for necessary goods and services.  Clothes that can't be sold are packaged and sent to third world countries.  Wheeler Mission has existed for 125 years, and is the only organization helping the homeless in Indianapolis.
The Ohio Xi chapter of Capital University sent brothers to a local Goodwill in Columbus, Ohio to spend their day volunteering in the donation center.  Texas Epsilon took part in The BIG Event, a campus-wide community service day in Nacogdoches, Texas that is the town's biggest day of service.  Participants spent time gardening and performing landscaping duties.  New York Kappa joined Alpha Omicron Pi Sorority to participate in the third-annual cleanup of Oneonta's Third Ward.
Ultimately, the National Week of Service exemplified the best that the fraternity offers.  Members across the nation did their part in building a better tomorrow and we're proud of all that was accomplished during this time of service.