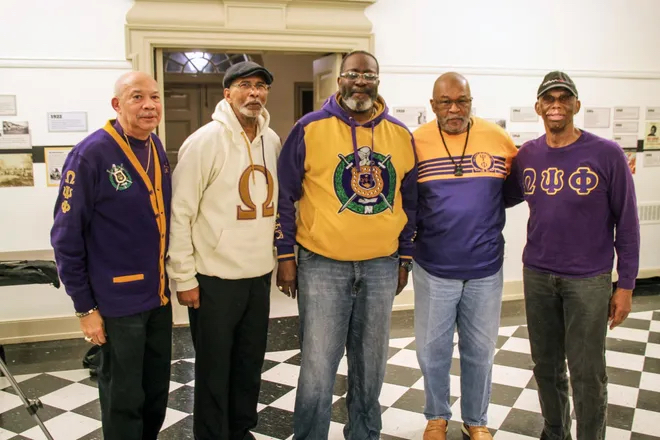 Two college juniors were walking across Howard University's campus in 1911 in deep discussion about the world after graduation from this historically Black school.
Edgar A. Love and Oscar J. Cooper soon met up with fellow student Frank Coleman and together they formulated the need of a fraternity to unite and inspire men to leadership in the communities they soon would live in.
Working with faculty adviser Ernest Everett Just, they formed Omega Psi Phi with the cardinal principles of manhood, scholarship, perseverance and uplift.
It wasn't easy for these young men — about two generations removed from enslavement — to form such a group. They were just college juniors, living in Washington, D.C. That's in the South, of course, and it was the early 1900s. And the university — its first Black president 15 years away — resisted.
"Nevertheless, guided by their faith in God and determination to see it through," a fraternity history states, "the young spirit filled men … met every challenge they were faced with."
Their fraternity spread to York and Central Pennsylvania on its way to becoming international, with 700 chapters today.
A dozen years later, six Black leaders in this region gathered to form an Omega Psi Phi chapter — Kappa Omega — to promote those four cardinal principles and engagement in their communities.
Medical doctor George W. Bowles and dentist Santonio F. Riley, deeply involved in health care in York County's Black population, represented York. Attorney William Justin Carter Jr., medical doctor Morris H. Layton Jr., state and county official Frank L. Jefferson and dentist Stephen J. Lewis, all from the Harrisburg area, rounded out this organizing group.
This year — a century later — heirs to these leaders follow their example, emphasizing manhood, scholarship, perseverance and uplift.
"You can't go wrong with those principles," York's Jeff Kirkland said in a February Kappa Omega anniversary presentation at York County History Center. "We try to instill that In young folks we come in contact with … ."
George Bowles' influence
Riley would leave York to found a decades-long dental practice in Philadelphia.
Bowles, a York High and Howard University School of Medicine graduate, stayed in his hometown and earned communitywide influence that was so vast as to be unmeasurable.
You could say he exemplified the principles of Omega Psi Phi and its Kappa Omega Chapter in his lifelong work of building relationships between the races and as a spokesman on issues affecting Black people.
Indeed, he gained respect in his first decade of medical practice. In 1915, he introduced political activist Alice Dunbar at a pro-suffrage rally. Dunbar argued that women should have the right to vote because they are increasingly working outside the home, paying taxes and want to look "personally after the things that effect their own lives."
Bowles' obituary story in 1951 ended with this simple accomplishment, but one with great meaning: He was the oldest male member of Small Memorial AME Zion Church. This exemplified a quality desired in Kappa Omega men: that they should be men of faith.
Between those important moments, he helped found York's NAACP chapter and was there at the start of Crispus Attucks Community Center in York in 1931, founded to foster social and recreational opportunities in the Black community. He put forth an idea still held by this influential community organization: Crispus Attucks must be in the character-building business.
His influence in the Great Depression era was invaluable. As just one example, he urged Black people not to be timid in bread lines at the York County Home. Black people should learn their rights, he said, and make sure they get their fair share of government aid.
"Bowles was well-known and respected in this community and beyond …," Kirkland said. "He was a national figure."
In fact, he headed the National Medical Association, a group of Black physicians, in 1938 and was active in medical organizations at every level. He served on several governmental commissions and appeared before a special U.S. Senate committee on appropriations for syphilis eradication.
Bowles was able to effectively work across the York community in the first 50 years of the 20th century as a model for his accomplished Kappa Omega brothers today.
'They're Omega men'
At the history center meeting, chapter members were unified in their saying: "Omega Psi Phi until the day I die."
They spoke with pride about the lives and times of past Omega Psi Phi members with York ties: Joseph Douglas, electrical engineering professor at Penn State York; Tillman R. Sease, head football coach at Howard University and West Virginia's Bluefield State; and Henry C. Orr, National Cancer Institute scientist, among others. As one example today, Kerry Kirkland, working in the administrations of Govs. Tom Wolf and Josh Shapiro and brother of chapter members Jeff and Eric Kirkland, is a Kappa Omega.
When you meet or learn about Black men of that stature, Jeff Kirkland said, more often than not, they're Omega men.
Today, Kappa Omega works to raise scholarship money and sponsor high school essay contests, youth forums and support the NAACP. The long list of their activities includes assisting in feeding and clothing the homeless in Harrisburg and York, enrichment trips for York High students and support for the Bethesda Mission women's and children's shelter in Harrisburg.
In an accounting of the Kappa Omega Chapter's history and accomplishments, the organization acknowledged its debt to fraternity brothers who came before them, the broad shoulders they provided that members are standing on today.
Chapter founders — Bowles and Riley and the others — built a foundation and provided examples of service, the history said, and members will "continue to present ourselves as men who do the work."
Sources: Omega Psi Phi and Kappa Omega histories, Friends of Lebanon Cemetery, James McClure's "Almost Forgotten," YDR files