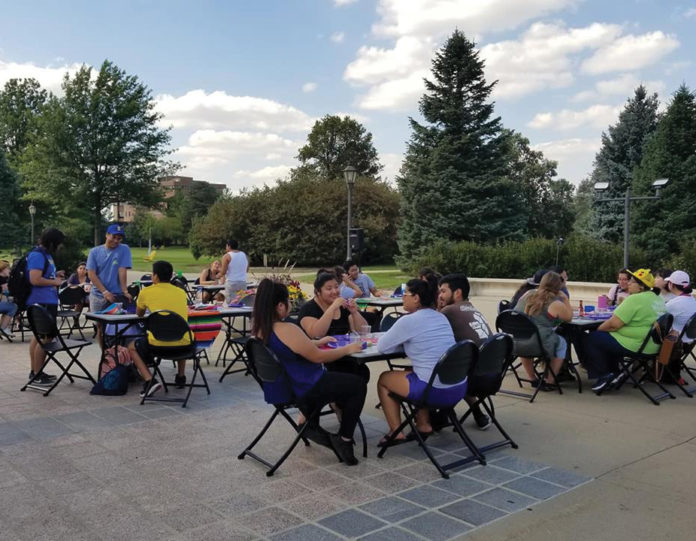 Students at University of Northern Iowa can experience Latin art, food and music on campus this month during Latinx Heritage Month.
Latinx Heritage Month, also known as Hispanic Heritage Month, is an annual national celebration of Latin culture running from Sept. 15 to Oct. 15. UNIdos, Lambda Theta Phi, Lambda Theta Alpha and the Center for Multicultural Education are working together to host several events in order to raise awareness of the month.
The term "Latinx" is used in order to be more inclusive in the community, according to Adalberto Castrejon, junior marketing management major and UNIdos president. Sometimes the term "Latino" is used, but because the term is masculine, "Latinx" is preferred because it is all-encompassing.
Several events have already happened for Latinx Heritage Month. It began with a Carne Asada Kickoff on Sept. 16.
"Carne asada is a dish that's very popular in Latin countries," Castrejon said. "It's like a steak taco. We also served empanadas and there was live music at the Campanile."
Other events included a Latin dance instructional on Sept. 19 and a lecture by history professor Fernando Calderon about Afro-Latinx history and culture on Sept. 26.
This Friday, Oct. 5, a rally titled "Forum on Keeping Families Together" will be held on the rooftop of Maucker Union from 3:30 to 4:30 p.m., hosted by languages and literatures professor Juan Castillo. Guest speakers will include Nilvia Brownson and two staff and faculty members from Hawkeye Community College. The event will focus on the separation of migrant families at the US-Mexico border and the impact it can have on individuals.
"I'm excited about it because of the political climate that's going on right now, and speaking about that topic is very important," Castrejon said. "Discussing about it will be good to raise awareness here at UNI. I'm also excited about this because in previous years there haven't been many social justice events that have taken place here on UNI's campus, so that event being focused on social justice and immigration within the Latin community will be very impactful and very powerful."
While a previously-planned Concha Fundraiser has been canceled, there will be one other event for Latinx Heritage Month: a Latinx Showcase on Oct. 12 in Lang Hall Auditorium from 5 to 8 p.m.
This event will be a display of various arts within Latinx culture, including dance routines, poetry and more. Lambda Theta Phi will be giving a salute during the showcase, which is meant to pay respect to ancestors who had to fight in wars instead of being able to go to school or college. A rap performance by Anthony Cortez will also be featured.
"Overall, when I started planning for the month, I wanted UNI to be aware of the Latin culture, the food and the dance," Castrejon said. "I wanted people to be more cognizant of our culture and more open to it."
The goal of increasing awareness for Latinx culture also extends to the club of which Castrejon is president, UNIdos, formerly known as the Hispanic and Latinx Student Union.
Other events UNIdos sponsors include a celebration of Día de los Muertos and the Latinx Ball, which is a culmination of the work that they do throughout the semester.
Through this organization and others, Castrejon hopes to educate the community and build support for the Latinx population at UNI.