The effects of war—from the loss of American troops to civilians—impact the world. Seeing that devastation inspired the Goolsby's to get involved.
"We had a strong desire to help the people that suffered much and show them Christian love," says Mike, who served as facilities director and community liaison for the International School of Kabul (ISK), the first accredited K–12 school in Afghanistan. As an American international school, ISK had funding from USAID and support from former First Lady Barbara Bush to provide education to Afghan and international students, and the Goolsby's made it a family affair—Gail served as the principal from 2005–2012.
"If you go trying to import 'U.S. culture' you will likely offend people. You must honor and respect their culture while you are seeking to build relationships and bring positive change, so at the same time you must go as a learner."
Beginning as Kabul International Academy in 2003 and morphing into ISK in 2005, the school had 190 students and 20 staff when they started. While a place for education and where the Goolsby's and staff resided, the campus wasn't set up with traditional classrooms.
"We were in houses that were like bedrooms," says Gail. "We were trying to fit 25 second graders in a dining room, basically. Michael's job with facilities was to make things liveable and expand."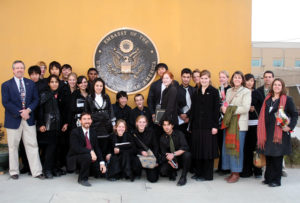 The Goolsby's left Afghanistan in 2012 and the school closed in 2015; however, it had grown to 400 students and 40 staff during that time. And even though the country continued to digress and safety outside of school was of concern, during the school day the kids were kids and teachers, teachers.
"Once we were in school, we were just in school," she says. "We did college prep education in a co-ed environment and we had more and more girls every year. Being an international school, our families were forward thinking and open minded."
Factors including media and social perspectives could paint Afghanistan and its natives as a scary place, and while the Goolsby's took proper precautions on safety in and out of the school, they both say they never felt unsafe.
"Afghans as a whole are extremely hospitable, and we left there with many wonderful friends, a greater understanding of how America is viewed in the world, and a renewed sense of how people are more important than tasks," says Mike.
"The major difference is that when you go abroad, it is important to learn to understand and live appropriately in the culture of the people you are seeking to serve," says Mike. "If you go trying to import 'U.S. culture' you will likely offend people. You must honor and respect their culture while you are seeking to build relationships and bring positive change, so at the same time you must go as a learner."
And a learner he was. After spending a few years working for the school, Mike started his own business with other Americans focusing on local business development.
"I wanted to be part of the nation rebuilding going on there—both with the school and in business. Afghanistan's unemployment was, and still is, extremely high, and I wanted to help start a business that could provide jobs for Afghans and teach servant-leader principles. Jesus was a servant-leader who said he came not to serve himself, but others. In Afghanistan, a nation wracked (at that time) by more than 30 years of war, people tend to get into self-preservation mode and could not always see the importance of this."
When the business began, it consisted of Mike and his two partners along with three Afghan employees. Within three years, the partners had grown their employee count to 45 locals—a significant feat for a low employment rate country.
"For most of them (employees), they were the only breadwinners in their families," he says. "Being able to provide steady income was a blessing to them and us, and for them to begin to understand the principles of leadership."
In addition to being a member of FH, Mike worked for the Fraternity in the 1980s in St. Joseph, Mo.
This is also where he and Gail's church covered their housing expenses while they were in Afghanistan so they had a home to come back to. Leadership, a clear value instilled in members and employees, stuck with Mike abroad and back.
"Within its DNA, FarmHouse embraces servant-leadership, so being a member and former employee of FarmHouse has been consistent with, and instructive of, my work overseas and in my present role, too."
Mike and Gail's work overseas kept them focused, but on their trips home they took time to see family and even nosh on missed foods.
"We'd eat bacon!" jokes Gail. "Pork is forbidden in Muslim cultures, so we'd enjoy bacon, pork chops, all of that."
The Goolsby's currently live in Wichita, Kan., where Mike serves as a pastor and Gail owns her own life coaching company, Learn to Live Well, does personal counseling and places international students in homes. And while the Goolsby's have been stateside again almost as long as they were gone, they have full intentions of returning to Afghanistan one day.
"In many ways, you will always wonder what your impact was," says Mike. "You go there thinking you will be the teachers of others, but come home and realize you were the greatest learner."