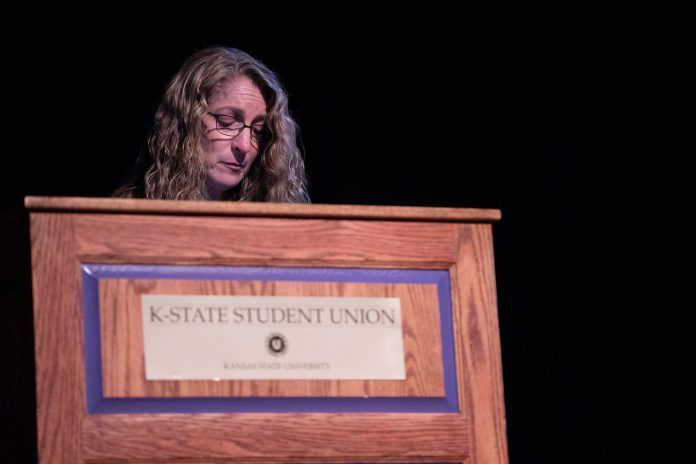 Imagine staring through tear-soaked, swollen eyes at your 19-year-old son, as he lays, broken, battered and barely breathing on life support. A nurse holds you as you quake in her arms after being told to "kiss your baby goodbye."
This is the picture Evelyn Piazza painted in the minds of approximately 800 students, faculty and alumni gathered to hear the Piazza family's End Hazing Now speech at the Kansas State Student Union Monday evening. Evelyn Piazza began her speech by placing the audience — full of students involved in Greek life — in the shoes of her family, as she recounted the events that led to the loss of her son.
Jim and Evelyn Piazza's son Timothy Piazza, a sophomore at Pennsylvania State, died due to hazing within the Beta Theta Pi fraternity in 2017. His parents made it their mission to end hazing on college campuses.
"We're not here because we're anti-Greek-life," Evelyn Piazza said. "We're here to make it safer for you."
Speaking to an audience that packed Forum Hall and nearly filled the K-State Student Union Ballroom, where the event was live streamed, the Piazzas gave the Kansas State community a glimpse of their reality.
"Our lives are upside down," Jim Piazza said. "We're not supposed to be here."
The couple turned their grief into motivation for change as they work with federal legislators to increase criminal charges on hazing, implement an anti-hazing program for high school and middle school students and travel to various universities to challenge students to make a change.
"You can imagine your child getting sick," Evelyn Piazza said. "You can imagine your child getting in a car wreck, but you can never imagine your child being taken out of this world by meanness."
She wiped away a tear from her eye with a wrist wrapped in bracelets she rarely takes off — the bracelets bear the names of students whose lives were stolen by hazing.
"I had more, but I couldn't keep wearing all of them," she said.
The Piazzas spoke about the consequences of hazing — in some states it is a felony. In their speech, they called K-State to action.
"Our ask is that from this day forward you say 'No' to hazing, that you stand up and say, 'We don't do that here,'" Jim Piazza said.
The Piazzas said it is everyone's responsibility to do the right thing and the end of hazing starts with Greek Life.
Sophomore in agricultural communications and journalism and vice president of Delta Sigma Phi fraternity Noah Ochsner said the presentation was impactful and prompted him to think about what Greek organizations may overlook as a safety concern, no matter how minor or small it is.
"This was a good reminder, and even though we haven't had a death at our university, it is important to be aware of the situation, vigilant of what's going on, and to be taking steps every day to prevent these situations," Ochsner said.
The Piazzas challenged the audience to be leaders and follow their values. They reminded the audience that if something doesn't look or feel right, it probably isn't. They said the cycle of abuse cannot be allowed to proliferate.
The Piazzas encouraged students not to shy away from reporting unsafe situations, especially since Kansas grants medical amnesty to to someone who calls 911 in an emergency in situations of underage drinking.
"I hope you realize that hazing on any level isn't good," Evelyn Piazza said. "You are your brother's keeper. If you do nothing else, call for help if someone needs it. You could save someone's life. Be the leader you'd like to be someday, start today."
Maddy Ebling, Panhellenic Council president and senior in elementary education, and Timmy Brill, Interfraternity Council president and senior in education, echoed these thoughts.
"We think it's important that everyone feels a responsibility to take care of one another," Ebling said. "We claim to be a part of a family at K-State, and family takes care of one another."
Ebling and Brill organized this lecture after hearing the Piazzas' story at a conference.
"We all have a responsibility to make our chapters better, and to encourage our members to be better men and women in their sororities and fraternities," Brill said.