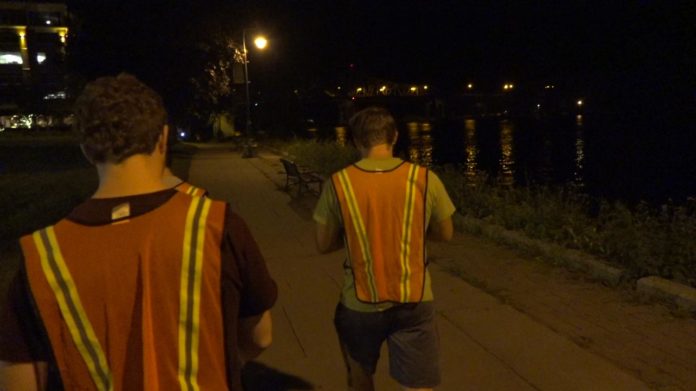 Between 1997 and 2014 12 people died from alcohol-related accidents in the La Crosse and Onalaska area, not including drunken driving crashes. Many were college students and ten of the 12 deaths were from drowning. 13 years ago, the La Crosse area took prevention upon themselves.
The University of Wisconsin-La Crosse Sigma Tau Gamma Fraternity and Student Association, along with Viterbo University and Western Technical College, organized what the student body now refers to as Operation: River Watch. A multi-campus organization that partners with the La Crosse City Police Department, their goal is drowning prevention along the Riverside Park edge that borders one of America's largest rivers.
According to Ryan Send, the organization's current Director of Operation, an average night hosts about three to five volunteers, many of them coming from Sigma Tau Gamma's members.
"Our volunteers are responsible for ensuring others' safety. Their duty is to walk along the river [Riverside Park] ensuring that all people who enter the park are asked to leave in a polite manner. We ask they walk from the south end where there is a shed on your right, that is the turnaround point. Our volunteers then head back to the north side and turn around by the Native American statue. Our volunteers continue to do this until the end of the shift," said Send.
On Friday, September 27, Tamara Lawrence and Jordan West from Western Technical College were on duty for Operation: River Watch. "There are a couple more people out here than normal," said Lawrence. "I've seen like two, on an average day, not during Oktoberfest."
Lawrence says that if Operation: River Watch was not around, it would be a different story. "I think a lot more people would be here. There was a good handful when we first got here tonight. If there weren't people enforcing it people would try to go out and test their limits in the park."
Send agrees that the Oktoberfest festivities increase attempted meandering through the Riverside Park area. Those who come from out of town to enjoy the La Crosse festivities increase the temporary population of people who are in potential danger of over-intake and reckless behavior. "Our objective this weekend is to keep everyone safe. The La Crosse police department plays a huge role in this weekend. We are here to provide support to the La Crosse police, when and if they need it," said Send.
"They do have a cop. A boat cop, driving back and forth along the river around the park area. That's probably a big part of it too," said Lawrence. "And there's also a patrol car doing routine checks, driving back and forth, through the area. The student government who actually runs it, they report back to the cops and give them numbers on how many people we kick out, so that they know."
The sense of community between the three schools in the La Crosse area and the cooperation between the organization and the La Crosse police department all help to create a more inclusive and collaborative La Crosse environment, according to Send. "Operation: River Watch seeks to cultivate and promote a stronger sense of social responsibility and safety in La Crosse's drinking culture," said Send.
Lawrence and West both agree that though the park is usually quiet, she still says she has had to use her authority quite often. She mentioned that when she sees people in the park she politely asks them to leave, as she's been instructed to unless other means are necessary. She said she has had to raise her voice to get attention and respect, "There was one time I had to yell 'Hey buddy! Park is closed! And then he left in shame."
Lawrence says that Operation: River Watch is a good way to get volunteer hours for her Agricultural Program and extracurriculars. "I've been a volunteer for over a year now," said Lawrence. The only organization of its kind, the River Watch has now been going on for over a decade. The safety net it provides to students and community inhabitants alike is a great source of peace and speaks to the sense of responsibility the La Crosse district has towards its members, as well as the sense of accountability for all of those taking part in the La Crosse social culture.