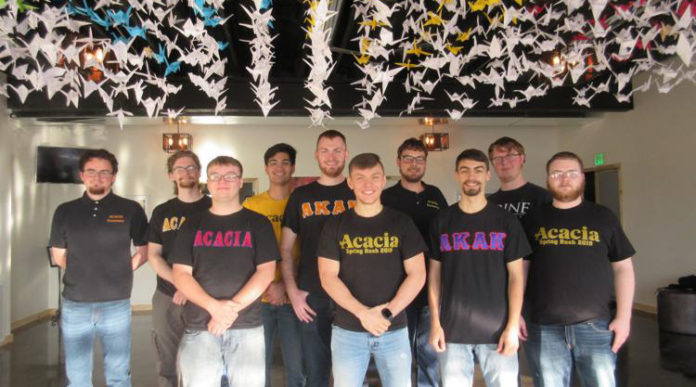 ANGOLA — There are nice guys out there.
They are at Trine University in the Acacia fraternity.
Acacia is a men's college fraternity founded on May 12, 1904, at the University of Michigan. With dozens of chapters across North America, over 50,000 men have served "in pursuit of virtue, knowledge and truth."
The Angola chapter, started in 2007, does highway and roadside cleanups and other community service. The brothers currently serve as docents at Driven By Data, a community exhibit of local art based on community statistics.
The gallery is located in Hurricane Speedshop, 900 N. Wayne St., Angola, and is open Fridays 6-8 p.m., Saturdays 10 to noon and Sundays 2-4 p.m. through Nov. 17.
A couple of brothers attend each gallery session and walk through the exhibits with guests, if asked, showing them some of the nuances and helping them understand the significance; "giving more depth to it," said Acacia member Jarod Davis. Davis' mother, Maria Davis, is Angola's Downtown Services Coordinator and creator of the largest piece in the gallery, a display of 600 cranes that represent the poverty rate in Steuben County.
"I wasn't super aware of how prevalent poverty was," said Joel Huck, a Bloomington native and senior studying exercise science.
Huck also commented on a recycling display created by YAS, the environmental arm of the Mayor's Youth Council at Angola High School. YAS — Youth Action for Sustainability — was given a small room to do with what it pleased. It is artistically heaped in plastics and posters highlighting recycling opportunities.
"To see all of that junk in one space," said Huck, "it makes you aware."
It seems to take guests of the gallery by surprise, said Huck. He noted that the overall response to Driven By Data has been good.
"They always seem very impressed," Huck said. There are a variety of pieces by artists of various genres, skill levels and age groups.
Austin Nault, a Rochester native and Trine senior design engineering technology major pursuing a master's degree in business administration, is president of Acacia and Davis, a senior communications major, is vice president.
"I joined it because it felt like a family," said Nault, "down to earth guys who are always there for each other."
Davis said he was attracted to the community service aspect.
"It was nice to find that place at Trine," Davis said.
Recently, Acacia did a trail cleanup at Pokagon State Park. Highway cleanups are conducted about four times a year.
Acacia welcomed community projects. Organizations or businesses with service ideas for Acacia may contact the philanthropy chair, Conner Loveless, at caloveless16@my.trine.edu. The fraternity has a Facebook page at Trine Acacia.
One of Acacia's signature projects each year is Acacia Claus, when brothers take Christmas presents to children at Parkview Hospital in Fort Wayne.
"We would love to get more community involved with that," said Nault. "It all goes to charity — we don't keep a dime."
Last year, through donations put in jars and other income, Acacia spent two months of its savings — $1,100 — on toys and gifts. They were purchased specifically for the children at the hospital at the time, away from their families from the holiday.
"It is the most humbling thing I've been able to do my entire life," said Nault.
Fraternity member James Gamage said last year the shoppers filled six carts at Meijer.
"It's one of my favorite things to do," Gamage said.
In the spring, Acacia conducts a week of service. Last year, the members worked at the Community Humane Society of Steuben County shelter and the regional science fair held at Trine University, among other efforts.
The Trine chapter is involved in state and national Acacia events, attending Conclave every other year. Two delegates from Angola will attend the national delegation in the summer of 2020 in Phoenix, Arizona.
Nault said it is nice to be among young people from throughout the nation who have had similar experiences through Acacia. It is a gentlemen's fraternity, said Nault, based on humility and service. At Trine, he said, Acacia members are proud to stand out as nice guys.