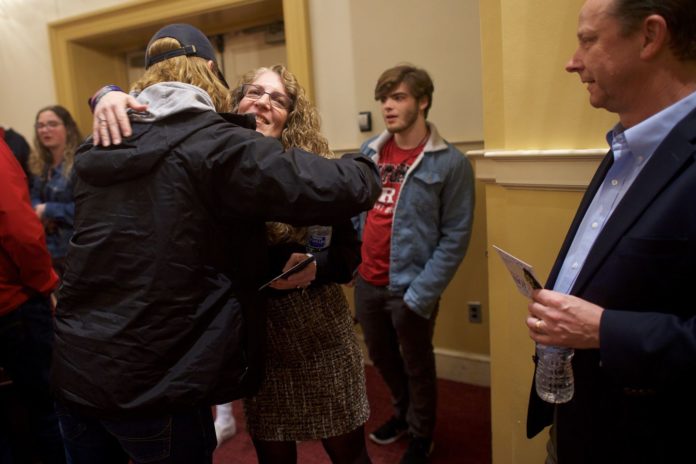 These parents lost kids to hazing. They're trying to make sure it doesn't happen again.
EWING, N.J. — The auditorium at the College of New Jersey was filled with hundreds of fraternity and sorority members, on a night during Greek Week. The event had sounded all too familiar to many: Go hear some adults tell you about the dangers of hazing. Again.
But their chatter had died away and their phones were in their pockets as Evelyn and Jim Piazza showed them photos of their tall, grinning son and told them how, after a gantlet of drinks and a headfirst fall down a flight of stairs at his Pennsylvania State University fraternity house, Tim Piazza was put in an ambulance, alone.
Jim and Evelyn Piazza gave the same speech to more than 5,000 students at Clemson University in September, then flew to the University of Florida and then to the University of Kansas and Kansas State to give it again. Evelyn Piazza delivered it at Louisiana State University, the University of North Carolina and Duke University, and they both spoke at American University and George Washington University last month.
They deliver this speech at big state schools and small liberal-arts colleges and fraternity leadership conferences, as many times as they can fit events into their overbooked schedules.
At the College of New Jersey, the Piazzas ended their speech with the aftermath of their son's death. There are the painful milestones like his birthday and Penn State's commencement this year, when Mike Piazza graduated from his five-year program, but Tim was not there to get his engineering diploma. There is the beginning of every month, when they think of the first days of February 2017, inexorably following the timeline to 1:23 a.m. There are all the little reminders: hearing the song that was his ringtone, seeing a football, getting to the beach house he loved.
"Not a day goes by — not a minute goes by — that I'm not thinking about Tim, lying on that basement floor," Jim Piazza said.
They challenged the audience to find their own way to change the culture. "Don't be the person who does this to someone," Evelyn Piazza said.