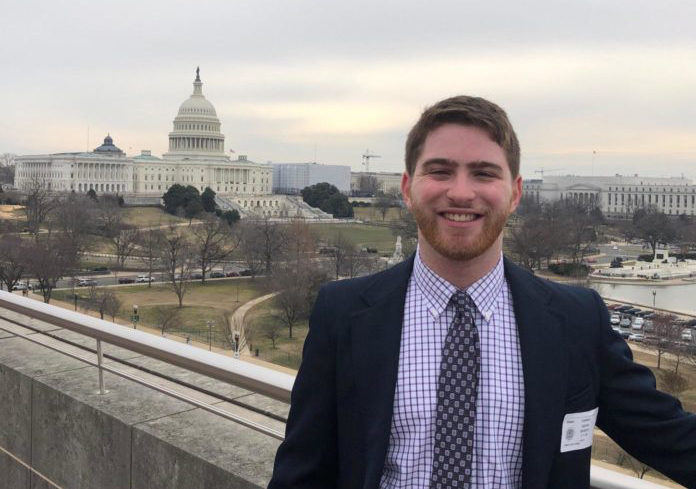 Zeta Beta Tau Fraternity brother Adam Fishbein wants to advocate for people with disabilities and influence disability policy in the public or nonprofit sector.
That's why, at just 21, he is pursuing a master of public administration at American University. His passion for disability rights comes from his own experience with Tourette's syndrome and ADHD, among other disabilities.
Fishbein grew up in Elkins Park, where he attended Congregation Kol Ami and graduated from the Woodlynde School in Strafford. He recently finished a fellowship in Jewish inclusion and volunteer recruitment at RespectAbility, a nonprofit for people with disabilities, as well as a Senate diversity initiative internship with Sen. Chuck Schumer (D-NY). The goal of the latter, Fishbein said, is to diversify the Senate workforce.
He is now at the National Committee for Responsive Philanthropy as a membership intern.
What made you interested in disability advocacy and policy?
I have multiple disabilities. Throughout my life, I've handled them, embraced them eventually and really learned how to cope with them.
In addition to my handling of them, a huge part of my experience with disabilities has been my parents and the rest of my support system as I grew up, building that support system. It was that support system that empowered me and enabled me to get to where I am today.
At a certain point, I needed to take ownership of that, but my main goal as a disability advocate/policy wonk is really to empower those with disabilities like me to have the experience and success that I have had, or have similar experiences in terms of positive experiences and being empowered.
Why were you interested in working on this specifically in the Jewish community?
It took a while for (my synagogue) to really get to know my needs and support me in the most appropriate way, but they continuously were trying to learn and do the best they could for me, and they wouldn't give up. I found a community there.
Honestly our rabbi — he just retired — but he was such an amazing figure in my life growing up. … I've seen the potential that synagogues can have to be an inclusive, supportive environment. One of our core values as Jews — we are here for all people, and every person is made in the image of God — I've seen that potential of embracing that, and being accommodating to everyone who comes through our doors, no matter their ability level or disability. That's a powerful message and a powerful thing.
The power that we, as a Jewish community, and the responsibility, the obligation we have, to accommodate disabilities in our community and outside is a sacred one.
What do you want people to know about making spaces inclusive for people with disabilities?
"Nothing about us without us." That is a real common phrase or saying in the disability community. To create an inclusive space for people with disabilities, you need to ask them, "What do you need?" But not just ask them. You need to give them the space, make them feel like they can disclose and won't be judged for it. You need to be supportive of that.