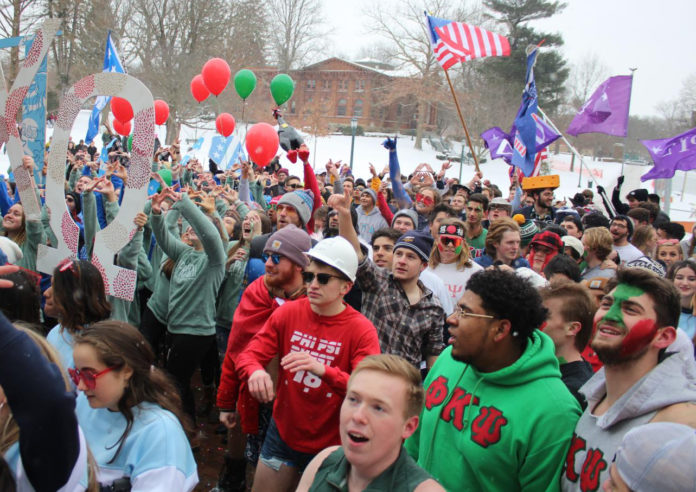 Brooks Circle was teeming with members of Allegheny College Sorority and Fraternity Life as the organizations' active members introduced their newest ones for the annual Bid Day Run Out event on Sunday, Jan. 19.
Run Out is an event that happens each semester following recruitment to recognize and welcome the new members. New members participate in Bid Day as a celebration of accepting a bid, or invitation, into one of the 12 fraternity and sorority chapters on campus.
Members of fraternities at Allegheny were also excited to get new members. David Roach '21 has been in Delta Tau Delta since 2017.
"This Bid Day was the most fun I've had at Run Out since my freshman year. There was a really big sense of sorority and fraternity community life there. It just felt like everyone was just there to have a really good time, everyone was cheering on everyone," Roach said.
Roach surprised himself by joining a fraternity his freshman year, and has not been disappointed with his choice.
"I came to Allegheny not really thinking that I was going to join a fraternity at all. I just think that sorority and fraternity life at Allegheny is so different than anywhere else because you aren't just defined by your organization, you make so many other connections between other organizations," Roach said.