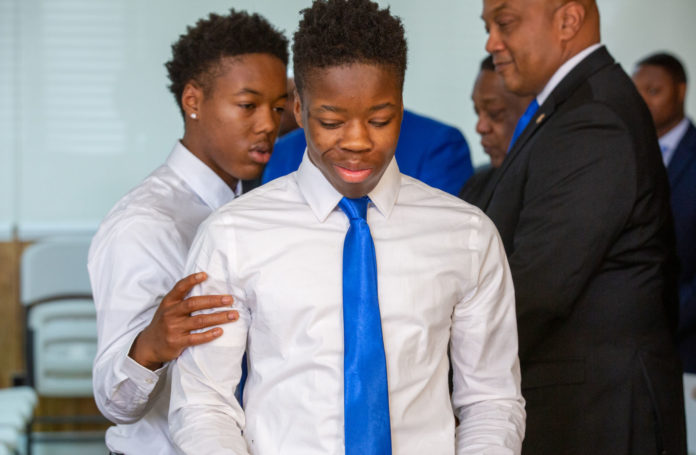 Joy Garrett–Bey was searching for a leadership program for her two boys when a friend recommended that she check out the Sigma Beta Club that the Fredericksburg-area alumni chapter of the Phi Beta Sigma Fraternity was forming.
On Saturday, Khalis Garrett–Bey, 16, and his 14-year-old brother, Jahmil Garrett–Bey, stood in line with other youths as they prepared to walk solemnly into the Shiloh Baptist Church (Old Site)'s social hall to be inducted as charter members of the fraternity's youth affiliate.
All nine were dressed alike in royal blue ties and crisp white dress shirts carefully tucked into black pants. Awaiting them at the end of the room were members of the Rho Zeta Sigma Alumni Chapter. Each was attired in a black suit, white shirt and matching ties in royal blue, the fraternity color.
Parents, siblings and friends, many also wearing royal blue, rose to begin the inspiring lyrics of "Lift Every Voice and Sing." Sometimes referred to as the black national anthem, it was written as a poem by fraternity member James Weldon Johnson in 1899 and set to music.
International Sigma Beta Club Coordinator Jenabu Williams told the gathering that he and his 10-year-old son had gotten up at 2:15 that morning to catch the train from Newark, N.J., so he could greet them on behalf of Michael Cristal, the fraternity's national president.
"We've made male mentoring the centerpiece of the fraternity's programmatic thrust," he said. "It's not that the other programs aren't important, but as a young man raised in Mississippi, Brother Cristal thought it was extremely important that this fraternity, as we celebrate 106 years of our existence, shift our focus to what we feel, regardless of the community, is something that we can invest in that will give us a return in years to come."
Phi Beta Sigma Fraternity was founded by three young African American students at Howard University in Washington on Jan. 9, 1914, to exemplify the ideals of brotherhood, scholarship and service. Members have included college presidents, famous authors and such luminaries as George Washington Carver. Bill Clinton is an honorary member, as was the late U.S. Rep. Elijah Cummings.
The fraternity launched the Sigma Beta Club in 1950 to help young black males and other minorities ages 8–18 develop wholesome values, leadership skills and social and cultural awareness. The Rho Zeta Sigma Alumni Chapter, which got its start four years ago, began laying the groundwork for its Sigma Beta Club affiliate last year. Nine students signed up last December, and two more signed just before Saturday's ceremony.
The Sigma Beta Club provides academic enrichment opportunities, a job training and savings and investment program, a childhood obesity initiative, and training on abstinence and the consequences of teen pregnancy. Members take part in community service projects as well, and can participate in Phi Beta Sigma's national conferences. The next one will be held at Fisk University, a private, historically black university in Nashville.
The hope, Williams said, is that club members will graduate from high school, join the fraternity when they attend college, and then pay it forward to the next generation just as the Rho Zeta Sigma Alumni Chapter is doing.
"This is an international program," he said. "These young men, after today, will have brothers throughout the country."
The initiation ceremony began with all the boys being asked to stand before a table bearing five candles representing the virtues of honesty, self-esteem, courage, integrity and concern. Fraternity members, who were seated behind the table, explained the significance of each as they were lit. Chapter President Moultrie T. Glover Jr. then read a list of challenges to which the boys were to respond: "I am ready!"
"Are you prepared to discover what makes you special and why you are irreplaceable in the course of your life?" he said.
"I am ready!" the boys responded.
The challenges, which are all part of the official membership ceremony for Sigma Beta Clubs, included being prepared to face ridicule for doing the right thing, to tell the truth no matter how hard the consequences might be, and to care for their true friends as brothers and help others even if it's inconvenient.
"My young brothers, few of us live up to all these virtues all the time," Glover said. "You will find that the ceaseless pursuit to perfect them will keep you growing towards manhood everyday of every year of your life."
He then asked the inductees to kneel and pledge to uphold the Sigma Beta Club's ideals and principles. Afterward, he welcomed them as members and invited male relatives and family friends to stand behind the boys and tell them that they love them and will hold them to their promises.
"I'm proud of you guys," Russell Martin of Stafford County told Kenan and Kellan Bufford.
Rho Zeta Sigma Alumni members then formed a circle around the boys, crossed their arms and held hands as they swayed and sang the fraternity hymn. As it ended, each boy was then called up front to receive their induction certificate and say something about themselves. Isaiah Harris, at 9 the youngest of the group, was called up first, but was so shy as he looked out at the audience and saw his parents that he could barely speak.
When the boys began helping themselves to refreshments, Carl Harris said that his son and 10-year-old David Steward are friends and wanted to join together so they can make new friends and make a difference to the community. Harris, who lives in Stafford County and teaches in Fairfax, said that he'd joined the fraternity in 2004 not only to make a difference, but to be a positive role model.
The Garrett–Bey brothers, who are active in sports, both said they decided to join because they wanted to try something new. Khalis, who is interested in attending a college where he can play football, added that he's also interested in the scholarships offered by the fraternity.