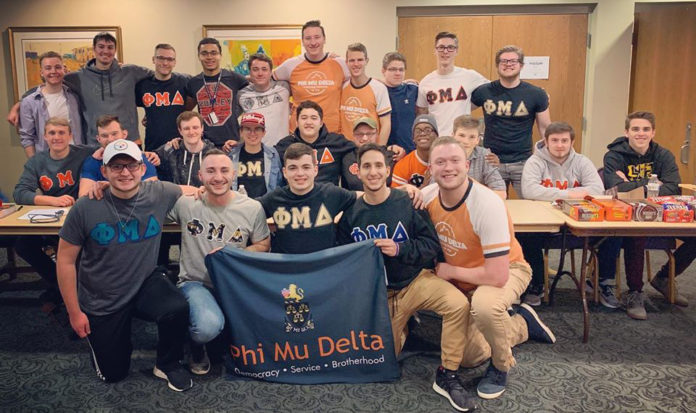 MOON TOWNSHIP — Phi Mu Delta and Rock U are collaborating to host their second annual "Jammin' for St. Jude" benefit show. The event raised $650 for St. Jude.
"It's great to still be able to contribute to St. Jude Children Research Hospital," Ryan Coffman, a coordinator for the event. "I love being able to give to people in need and knowing we're doing this to help children in need when we're so lucky to all be in positions we're in and not have to go through what those kids are going through."
The event puts a focus on the philanthropy and combined talents of the campus community.
"You can expect a lot of fun, good music, and a lot of talent. I've seen all of these acts perform before and they all put their heart and soul into music," said Coffman. "It's going to be a really good show again this year. I'm excited to see everyone there and I'm excited for all of us to put on an amazing show."
Christian Thomas, one of the newest members of Phi Mu Delta, is eager to experience his first Jammin' for St. Jude.
"I'm expecting it to be a fun experience due to the fact that the event is very similar to a music festival, which is something I generally enjoy," Thomas stated.
One of Phi Mu Delta's three pillars is service, something the fraternity honors when they put on the event.
"The philanthropic aspect of PMD is very important to me because growing up, I experienced what it was like to constantly be around a children's hospital and what kind of impact an institution like St. Jude Children's Research Hospital can have on a person's childhood experience," said Thomas.
Phi Mu Delta's philanthropy chair Andrew Arrigo also added to the philanthropic aspect of his fraternity and how special their connection is to St. Jude's.
"Our members feel that their focus towards helping children overcome life-threatening diseases and treating them with the proper pediatric care they deserve is something that our brothers all appreciate."
"St. Jude's helps children who are not always able to fight their own battles with disease, and by supporting the organization, we can help them fight their battles too," Arrigo continued.
In addition to Jammin' for St. Jude, Phi Mu Delta partakes in other service projects such as the MuD Bowl, the fraternity's annual flag football tournament, and the Winter Beach Party, with all proceeds benefiting the efforts at St. Jude Children's Research Hospital.
The fraternity has raised close to $9,000 for its philanthropy in the past three years.