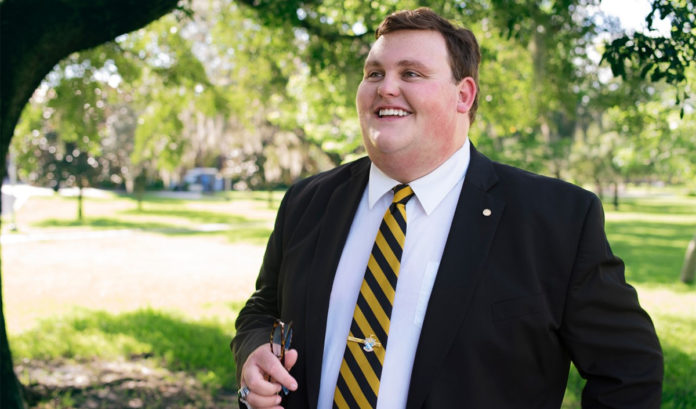 The 2020 Order of Pegasus and Founders' Award recipient says he might not have had much of a social life, but he doesn't regret a thing.
Kyler Gray doesn't like to be bored.
In high school, Gray was the student body president, the class president and the valedictorian. However, when he came to UCF as a pre-med student, he made a sweeping declaration: He would remain anonymous. Focusing on being a student and enjoying a social life, he decided to be a "small fish in a big ocean."
Needless to say, all it took was sitting through a speech by the then student government president at freshman orientation for those grandiose plans of fading into the background to swiftly fall apart.
Gray claims that he walked over to the student government office just to chat because he was curious — that was all. After speaking with the president about his leadership positions in high school, Gray was strongly encouraged to join the team. "The rest is history," he says with a laugh.
Flash forward four years, and Gray has switched his major to public administration and minor to education, fields that ring truer to his passions. He's also the recipient of the Order of Pegasus and Founders' Award. The Order of Pegasus award is the highest and most prestigious honor given at the university level, whereas the Founders' Award is given on a college level to a student who has excelled academically.
Gray says that despite his involvement on campus, he held onto the philosophy that he was a student first. "Your main priority for being at UCF is to obtain that degree," he says with a laugh. No matter how hectic his weeks got, he always made sure to have all his homework and assignments done by Friday.
"I was very ecstatic to receive the email from Dean Carroll," regarding the Founders' Award, says Gray. "It's great to see that your success, both inside and outside the classroom, can be recognized on various levels. I'm just excited to be in a collective group of individuals that have given so much to the university in terms of professional service and academia."
Gray says that recognition is not the reason to do things, but he admits that he hasn't stopped smiling since he received the congratulatory emails. "I never thought I would have been selected for the Order of Pegasus award," he says, especially out of a pool of 70,000+ students. "I'm ecstatic that someone recognized my hard work and my service to the community and the sacrifices I've made. And, more importantly, they saw that for the past four years here at UCF that I have given more to others than I think I've given to myself."
Gray is currently the president and CEO of UCF's student government. He also serves on the university's board of trustees. He's a member of the Florida Student Association, which oversees all of the state's universities (he also chaired a committee on food insecurity and student homelessness). He was the vice president of the Interfraternity Council and the vice president of his fraternity, Phi Delta Theta. He is a high school substitute teacher. He also, somehow, managed to excel in the classroom (as a student this time) by making it onto both the president and dean's lists.
"Most people would probably think I'm a weirdo or eccentric because of how much I love leadership and even the stressors of leadership, but the biggest part of it is: you get to see the impacts that you make while in these roles," says Gray.
On a day when he might have seven meetings with stakeholders from all over the university, when he's juggling phone calls and a never-ending influx of emails, the highlights of those frantic days where when he got to meet with a fellow student. "If I got the opportunity to help at least one student during my day, it really solidified why I jumped into these positions. And at that point, it's just addictive; you want to help more and more every single day," says Gray.
Gray says his servant's heart comes from watching his parents mentor and empower children through their roles as educators in his hometown of Live Oak, Florida. Gray's mother is a fourth-grade teacher and his father the principal at their local high school. Even now, in the midst of a global pandemic, his parents are considered essential workers, Gray explains. His mother has spent time calling her students, helping them through homework. During the day, his parents are on a bus, providing food for students.
"If there's anything they taught me, it's the power of empowerment. There's nothing more rewarding than empowering others through your service," says Gray. "I think that my passion for education, my passion for service, and my passion for leadership have really come from my parents because I see the sacrifices that they make on a daily basis."
Given his parents' impact, it's only fitting that Gray turned to the education and public administration programs. Gray describes the field of public administration as a mixture of business, leadership, governance and policy — all the areas he has enjoyed in his positions with student government. "I learned to absolutely love the discipline," he says.
He can recall the first lesson he learned in his public administration class: the concept of a street-level bureaucrat. Although that term may come with a negative connotation, he aligns with the true definition, one of "being on the ground and engaging with your fellow students in a positive manner," he says. It's the idea that he centered his student government presidential campaign around and one that he continued throughout his term.
"It all comes down to wanting to be that catalyst for change, that catalyst for impact and, most importantly, helping brighten one of your peer's days and make it easier and better for them," says Gray.
When Gray was eight-years-old, he declared that he wanted to be a history professor. Although he still calls himself a history buff, things have changed a little. After graduation this May, Gray will head to the University of Florida and begin a dual program, working towards his doctor of jurisprudence and a doctorate in higher education administration. There's no doubt in his mind that he'll end up in the classroom. "It'll always be my first passion," he says.
As for the leadership positions, he has some parting words of wisdom for students interested in following his footsteps: "Anyone who wants to venture into these leadership positions, all they need is passion and a love of service, and they'll do just fine."