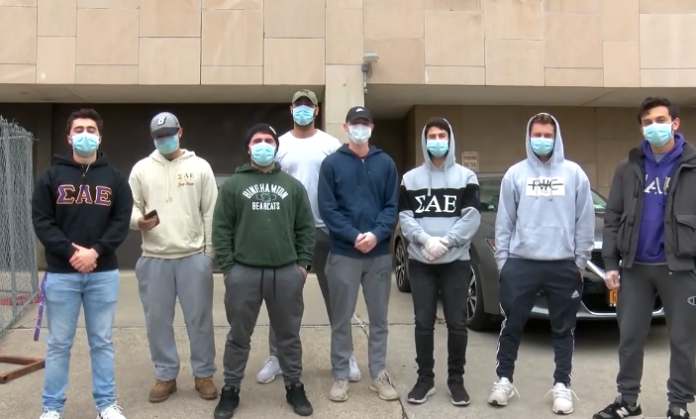 BINGHAMTON (WBNG) — First responders were treated to a friendly gesture on Thursday, as brothers from Binghamton University's Sigma Alpha Epsilon fraternity stopped by city hall to donate pizza and cases of water to the Binghamton police and fire departments.
"We saw how the first responders and hospital staff have been staying on the front lines fighting this pandemic, so we at least wanted to provide some food for them," says Fraternity President Thomas Grosso.
The fraternity has previously done a similar donation at Lourdes Hospital.
Meyers told 12 News giving back to first responders was extra special for him
"My brother is a police officer in Philadelphia, so it really hits home for me to recognize these people and to show them we appreciate them and what they're doing for our community," Meyers said.
The donations are part of the fraternity's push to help their community during the COVID-19 pandemic.
"We love working with the Binghamton community, this is our second home for the students," Grosso said. "We love to give back to the community, the fireman are great, the police officers are great, so it's our honor to do it."
Mayor Rich David was appreciative of the fraternity's generosity, and hopes the donation inspires others to give back.
"The fact that you have the community and fraternity groups that recognize what these first responders are going through, and want to find their own ways to give back was a very kind and important gesture," David said. "I want people to see what they did. I want people to watch this story and go, 'I can do something like that, too.'"
Grosso told 12 News the fraternity has a GoFundMe page set up for fellow Binghamton University students an community members to donate to.
Currently, the page has more than $900, with Grosso and Sigma Alpha Epsilon looking to do more donations to first responders moving forward.