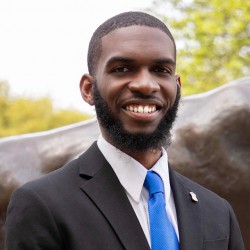 Originally from New York, Edenis stepped out of his comfort zone when he decided to attend the University of Pittsburgh. Although Pittsburgh was six hours away from home and he felt nervous about finding his fit, Edenis did not let that stop him. He has been an active member of the Black Action Society (BAS) since his first year, he is a member of the Epsilon Kappa Chapter of Phi Beta Sigma Fraternity, Inc., and served as the president for the National Pan-Hellenic Council (NPHC) his senior year.

In his final semester, Edenis reflected on the impact that upper-class students had on him as a first-year student. Seeing familiar faces impacting Pitt students and the University inspired him to become heavily involved and strive to be a familiar student leader that incoming students knew around campus. For Edenis, seeing those familiar faces gave him something to aspire to and made him feel comfortable at Pitt.
"If I made an impact on someone – whether that be one person or three people – I feel like that will definitely help Pitt in the future in terms of developing more leaders that want to continue that change."

Edenis served as the vice president and business manager for his fraternity in 2018-19. During his time with the fraternity, they hosted programs to engage students and participated in several community service projects. After joining the fraternity, Edenis realized that he could reach more students by being involved in more than one organization. When his outreach spread beyond his close group of friends, he could initiate more positive change.

In his senior year, Edenis transitioned away from his active role in BAS to work with NPHC, where he served as the programs chair in his junior year and as president his senior year. As described by one of his peers, "Edenis leads with genuine passion and demonstrates the ability to listen and work with all members of the council despite differing opinions and intentions."

Edenis prides himself in the work he and others did with the Student Conduct office to revise the Student Code of Conduct to include hate speech. He explained that, although new students will not know that this change was made, the students that experience hate speech will understand and appreciate it.

Edenis aspires to work as a psychiatrist. After graduation he plans to return to New York to work in a psychiatric hospital, conduct research, and study for the Medical College Admission Test (MCAT) to apply for medical school.