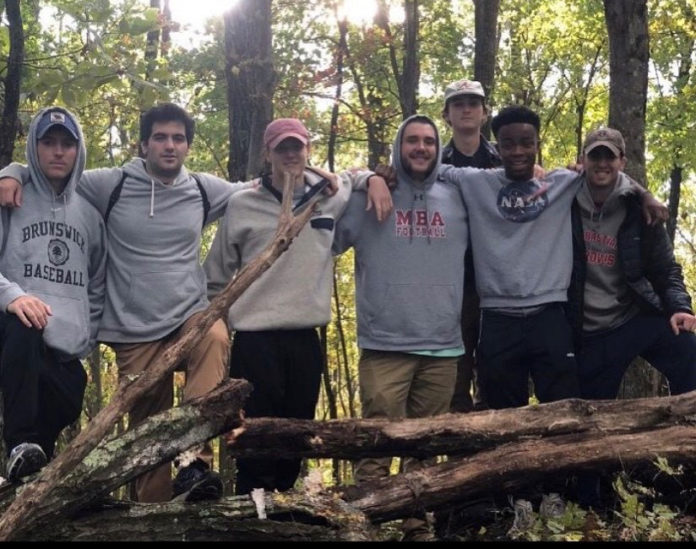 We've all heard stories of people getting bad haircuts during the pandemic – it's the best we can do while salons and barbershops are temporarily closed. Alpha Upsilon Delta at Wake Forest University is tying that inevitable conundrum into a virtual philanthropy event, and putting their own hair on the line to do so.
The Alpha is partnering with Second Harvest Food Bank in North Carolina to raise money for families directly affected by COVID-19. The men of Upsilon Delta are fundraising to provide meals to those members of the community who are unable to work or shop for groceries right now.
"This came about after the lock-down started," said Upsilon Delta #1 Drew Powell, '21. "We were going to do our annual philanthropy after Spring Break, but we weren't on campus anymore so we were thinking of other ways to do something, while making it more prevalent to the current situation."
The school's FSL Director sent all chapter Presidents a link from Second Harvest Food Bank asking for help in Winston-Salem, and it seemed like the ideal opportunity.
"We thought, "hey, that's perfect!"" said Powell. "10 dollars raised equals 70 meals in the Winston-Salem area. We will keep going until we reach our goals, and if we hit them, we can keep going higher!"
To spice things up a bit, the Alpha also decided to add more "incentives," if you will, to keep family and friends donating. For example, one Brother offered to grow out a mullet at a certain threshold, and another said he would buzz his head ("he used to have long, flowing hair, so he will look especially goofy!" said Powell) if they get to $2,500 – half of the Alpha's total goal.
If they exceed their goals, they will add more cosmetic incentives to keep people laughing and keep the donations coming. Regardless, the opportunity to help out their local community and still do a philanthropy from home was something Powell and his Brothers wanted to take advantage of.
"This means a lot to us," said Powell. "Winston-Salem has become a home for all of us. Wake Forest is a part of Winston-Salem as much as Winston-Salem is a part of Wake Forest. The people there need our help and this is a way we can do that."
Powell has been impressed, but not surprised, by the outpouring of support from within the Alpha so far. He says it's been a way to keep the guys involved while also doing something good for the community they all love. In fact, they ended up doing more than just the food bank fundraising.
"People were asking immediately how they could help," said Powell. "We offered a bunch of guys rebates on parts of their dues, and they all said they'd rather use the money to help people affected by the pandemic. We are donating some money to the Wake Forest staff affected by this. But this food bank idea has definitely provided a little bit of light in an otherwise difficult time. It's a little bit of blue sky on a cloudy day."
When asked if he felt the philanthropy was something Brothers of Upsilon Delta were called to do as gentlemen of Chi Psi, Powell didn't hesitate.
"Absolutely," he said. "We consider that our duty. Everybody plays a part, so we're doing whatever we can to help."
To contribute to the Alpha Upsilon Delta fundraiser, click this link! To keep up to date with the hair-cutting shenanigans, follow their Instagram at @chipsiwakeforest.