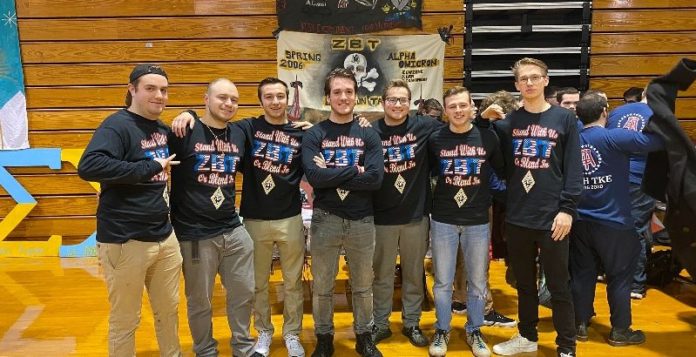 Zeta Beta Tau's Epsilon Tau chapter at Fairleigh Dickinson University – Florham Campus raised over $750 for the Children's Miracle Network Hospitals. The chapter has been looking for new ways to raise funds for the children during the interruption of the school year along with a shift to online activities dominating school, work and social life. With the help of ExtraLife, the Epsilon Tau chapter was able to do what they all love while giving back: play video games!
It began with the Brothers of the chapter hanging out late at night many nights a week over the internet. Saddened by their new lives staying at home and not being able to go out much, they turned to a pastime that allowed them to still feel like they were as close as could be: playing video games.They played and talked and realized that this was a very positive way to still have social contact while maintaining proper distancing protocol, as well as being able to collaborate on common goals in a setting that relieved the stress of school and the tension of the quarantine.
Upon talking more, an idea began to brew in the Brothers' heads. They had come to realize that there were some people for which this type of isolation, with nothing to do, and not having the ability to even go far from their homes wasn't a temporary fantasy that would lift when virus cases dropped. This was inspired by Brother Tomasz's own time in a hospital.
Tomasz Kasztelan (pictured on right), the current president of the Epsilon Tau chapter, was born with a heart defect: a hole in the pulmonary vein causing blood to leak back into the lower left ventricle of the heart. He underwent major open-heart surgery at the age of 12 and was bedridden for a week and a half, stuck in a hospital for that time, and then recovering at home for the next couple of months. Kasztelan explained, "It was one of the scariest times of my life. While recovering in the hospital, there wasn't much to do except for play some games, talk to family when they visited, and sleep between doses of painkillers. I only started leaving my room about a week after the operation, just to learn to walk on my own two feet again."
The Brothers understood his story, and felt inspired to help make a difference to those patients for whom quarantine was a reality of their everyday lives, not caused by a pandemic or government orders, but because they were undergoing treatments in hospitals for extended periods of time. They then began to think of ways that they could help out.
Brother Sean Clancy (pictured leftmost in the group) was a big fan of E-Sports growing up, and is still very much involved in the scene. He played in Call of Duty tournaments growing up, and never let go his love for gaming. He knew that ZBT had a philanthropic partner in Children's Miracle Network hospitals, and learned about the connection to Extra Life through that. He was quickly making phone calls, writing emails and doing much of the background work necessary to get the Epsilon Tau chapter off the ground.
"It took some work, but I mean, it's always been a goal of mine to start streaming (games), just glad I was able to begin in this way," said Clancy.
With his efforts, Epsilon Tau had a station ready to begin one of the chapter's greatest endeavors: a 24 hour livestream of videogames played by the Brothers in order to raise money.
Common and popular games were played during prime hours, such as Fortnite, Call of Duty, League of legends and more popular titles. The Brothers went above and beyond by even playing the beta of one of the newest and most popular video games on Twitch.tv, the livestreaming platform: Valorant. These games ensured that there was popularity for the livestream to be noticed not only by the University community, but also by strangers looking for a good time watching these games. The biggest assistance the Brothers of the Epsilon Tau chapter received was support form chapter alumni and the Delta Pi chapter, who supported the stream by joining in on games and just by interacting in the live chat during the stream.