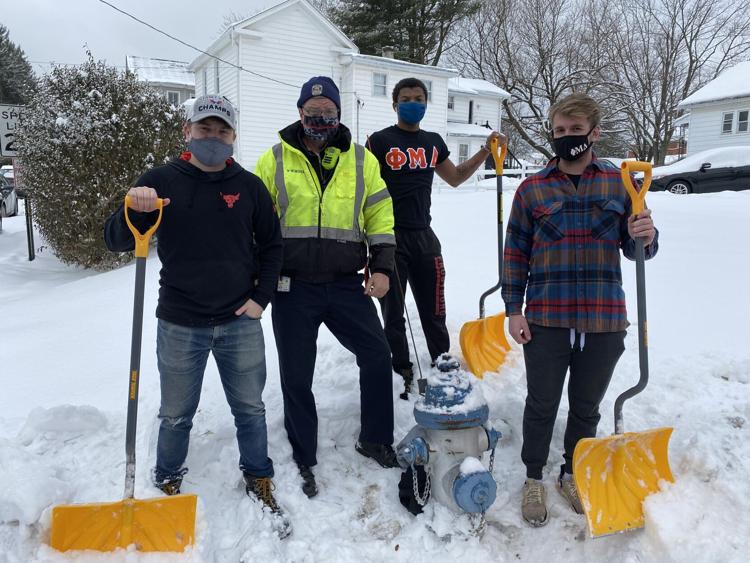 FROSTBURG, Maryland — Fire hydrants buried in snow are a source of high stress for Frostburg Fire Department Chief Matt McMorran. And with the amount of snow the city has had this winter, it's safe to say sleep is nil.
The sheer number of hydrants in the city limits is overwhelming for the fire department and city employees to handle alone. It leaves the fire department to put out requests on social media and to ask local businesses and residents for help.
"A couple of days ago," McMorran said after a recent snowstorm, "I made flyers up and I went up and down Main Street, especially if there was a business and I said 'look, man, we need help.'"
Several members of the Frostburg State University fraternity Phi Mu Delta answered the call, borrowing some shovels and clearing over 30 hydrants on Center, Maple, Water, Wood, and Spring streets and on College Ave.
"I am extremely impressed with these young men for assisting the department and the citizens of Frostburg and can't thank them enough," said McMorran, who went out to greet the fraternity brothers. "These efforts help protect both locals and students living in and around the Frostburg State University campus."
In years past, the fire department received 100 shovels from Fifty Shades of Frostburg to support an adopt-a-hydrant program. In theory, the shovels were for people who signed up to adopt a hydrant to shovel when snow came through.
There are still 85 shovels the fire department is ready and rearing to give out.