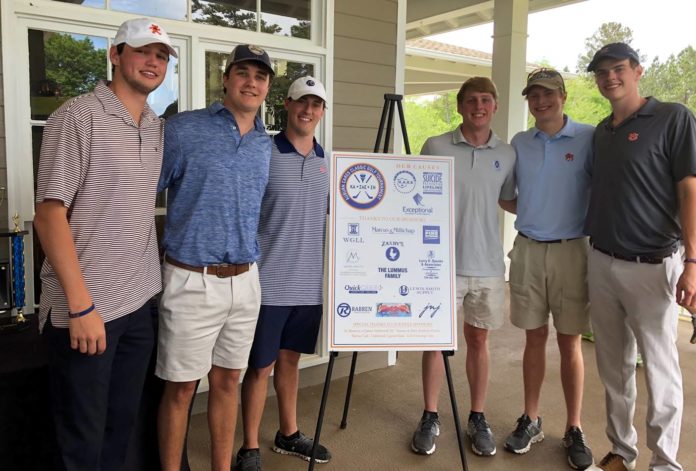 On Saturday, April 17, 2021, the Auburn University chapters of Sigma Nu, Kappa Alpha, and Sigma Alpha Epsilon came together in the AUBURN CARES GOLF CLASSIC to support three philanthropies through an alumni-collegiate golf event. Forty foursomes filled the Starter's Card and more than $22,000 was raised to support Operation K.A.R.E., the Suicide Prevention Lifeline, and The Exceptional Foundation of East Alabama. It is expected this will become an annual event, and the first-year results are surely promising.
The poster shows sponsors and philanthropies, and the in the photo you will see left to right, Sigma Alpha Epsilon Eminent Archon Hunter Doughty, Sigma Nu Philanthropy Chair Luke Chitty, Kappa Alpha Number One Brennan Sharp, Kappa Alpha Philanthropy Chair Draper Watson, Sigma Nu Commander Harrison Rudd, and Sigma Alpha Epsilon Philanthropy Chair Will Huffman.
This is yet another example of the positive impact of Greek Life in general and fraternity leadership in particular to make our world a better place through the development of our members.