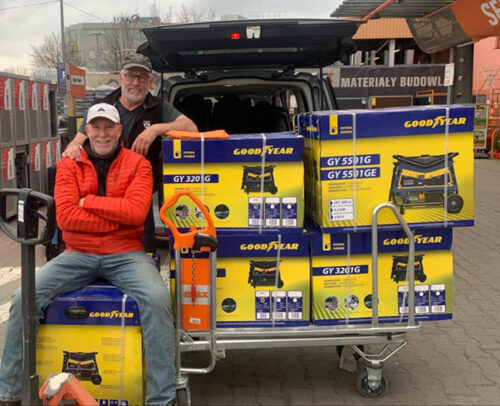 Pair provide transportation from border to safety, generators to keep hospitals, field sites running
KINGSTON, R.I, – April 21, 2022 – University of Rhode alumni and Theta Chi brothers Lorne Adrain '76, and Jim Buehler '78 were well into their mission to help Ukrainians escape the carnage of the Russian invasion when the duo witnessed one of many heartbreaking scenes at the Ukraine-Poland border
"I saw a woman in her 60s who has a son with disabilities, and she had all of their belongings in a plastic bag that was tearing apart." Adrain said. "We took them to a train station in Warsaw where they were proceeding to Berlin."
"Their entire life was in a breaking plastic bag," Buehler added.
Buehler charged across the street to a local shopping center to buy the woman a suitcase so she could push her son's wheelchair without having to worry about their belongings being scattered on the ground.
Before leaving in March for their 12-day trip to Poland, the pair raised $5,000, which helped them provide fleeing Ukrainians with rides to hotels and homes in Poland, chainsaws to help Ukraine forces block roads, generators to keep hospitals and aide sites running and provide power for those still in Ukraine who had lost electricity during the invasion, as well as items for personal needs.