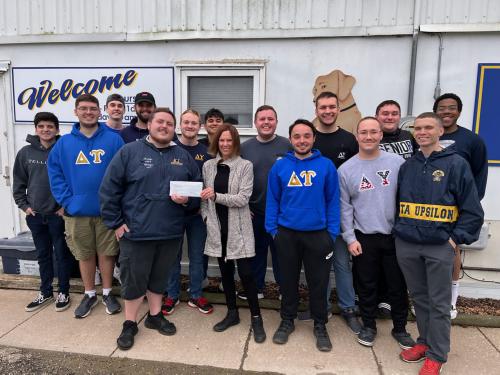 MACOMB, IL — The Western Illinois Chapter of Delta Upsilon Fraternity recently presented a check to the Humane Society of McDonough County. The $850 donation is for the New Shelter Building Campaign. The funds were raised by the chapter during its spring semester philanthropy fundraising.
The donation is an outgrowth of several members of the chapter this past school year becoming involved with the McDonough County Animal Shelter as part of the chapter's community service. Members had been helping clean the shelter building, working with the animal cages and helping walk dogs.
Matthew Powell, a senior law enforcement and justice administration major, from Crystal Lake, IL, who is the chapter's philanthropy chair, noted that during their service hours members saw the need for a better facility. As a result, the chapter decided to help raise money for the new shelter building campaign, bringing in $850 as part of their ongoing philanthropy efforts.
On May 3, chapter members met Humane Society President Bonnie Smith-Skripps at the McDonough County Animal Shelter to present the check.
"We are glad to be able to be a part of helping the Macomb community, and hope to be able to continue giving assistance in the future," said chapter President Trevor Swope.
Delta Upsilon, founded in 1834, at Williams College, is the sixth oldest men's college fraternity, and the first to be founded as non-secret. The Western Illinois Chapter has been an active fraternity on the campus of Western Illinois University since 1972, chartered in 1974, and has over 900 alumni and members who have been a part of the organization history at WIU.