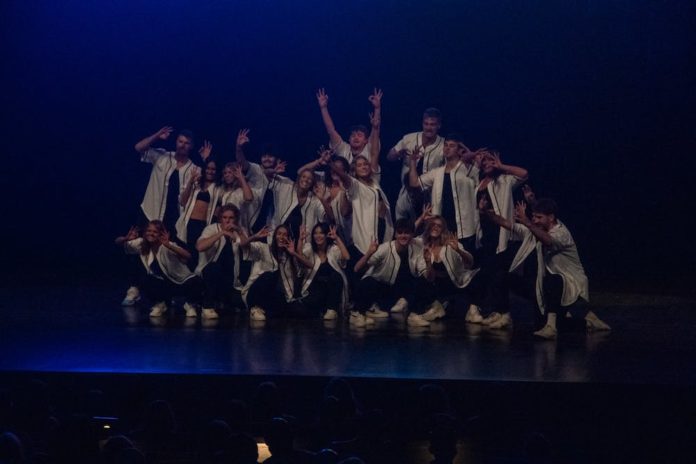 Ball State students and advisor discuss the Homecoming week tradition, Air Jam, as it hits the stage for the 2022-23 school year
Since 1987, several student organizations have taken center stage inside John R. Emens College-Community Auditorium, dancing the night away and lip syncing in front of an audience of Ball State students.
Air Jam — held Oct. 20 at 7:30 p.m. — is one of many events during Ball State's Homecoming week. It is packed with brightly-colored lights, glamorous outfits and uproars of cheers from congested rows of an energetic audience.
Besides providing leisure, this Homecoming week tradition allows Greek Life organizations, performing arts teams, residence halls and many other campus groups to compete against each other in an all-out dance and lip sync royale.
Tony Sandleben, Ball State 2018 graduate, was involved in Air Jam through his fraternity, Alpha Tau Omega (ATO).
"We were paired with Kappa Delta, and at the time, we didn't have an actual fraternity house," Sandleben said. "So, we had to get creative on where we could practice, and it just made it much more fun."
Sandleben's team practiced in many different locations, from the College of Architecture and Planning building to the roof of the Village Promenade Apartments.
At the end of each practice, the grueling hours of dance routines left Sandleben with exhausted enjoyment. Thankfully for the ATO member, his theater background was of service.
"It's all about muscle memory and whatnot," Sandleben said. "So I ended up picking up on it relatively decently, it's just my endurance was terrible. So by the end of each rehearsal, I'm gasping for air."
Even though Sandleben only performed in Air Jam during his fourth year in 2017, it only took one show in Emens bringing the whole crowd to life to give Sandleben a taste of Air Jam spirit.