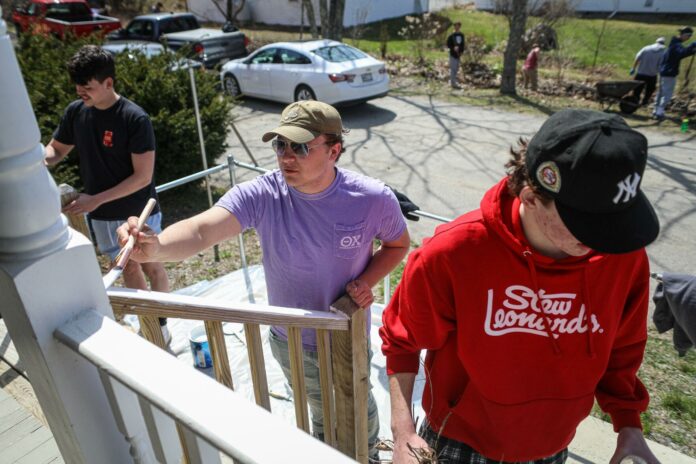 ELLSWORTH — Families First Community Center (FFCC) and the University of Maine's Theta Chi fraternity have partnered together to establish a philanthropic collaboration between the organizations moving forward.
Dozens of fraternity brothers were seen walking around FFCC on April 22. Some freshened up paint on the hand railings outside, while others began fixing a trailer across the street or installing insulation in the basement. Some even cooked food or provided transportation for patrons inside.
"We're a nonprofit, and this place is ginormous," FFCC Executive Director Shaina Fraser said. "It takes a ton of maintenance inside, outside, the whole nine yards. To have 20 guys come for a day and just do a bunch of stuff is like, it's awesome for us. We just don't always have the manpower to get everything done that we want to get done."
FFCC provides transitional housing for up to six families with at least one child at a time. It also provides community support and outreach, parenting instruction and support around life skills, education and jobs, safety, stability and medical/therapeutic support.
The partnership was initiated by a Theta Chi alumnus with ties to FFCC; after introducing him to the cause, current Theta Chi chapter chair Dominic Palmer brought the two organizations together.
"We do service hours every semester, and it's always good to have partnerships or groups to work with instead of just bouncing around from place to place," Palmer said. "It's a great opportunity for us to give back to the community and give back to here.
"Whenever, wherever they need help, we're happy to come down, see whatever needs to be done. We should have someone that can do just about everything."
Theta Chi brothers will continue to do work with FFCC for as long as the partnership stands, providing much needed support and services to the organization. They will continue to work on grounds maintenance, basic repair work, and providing meals and transportation to patrons who need it.