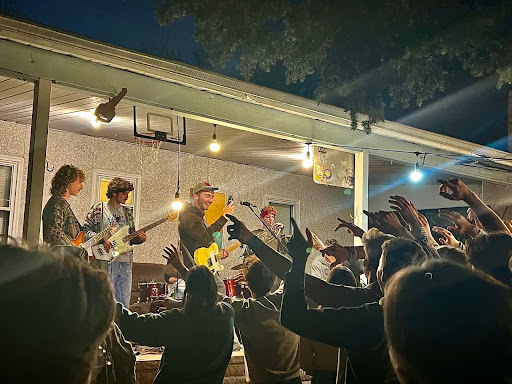 Glowing string lights shaking to the vibrations, dirt rising from the ground from all the dancing, and hands swaying in sync with each drum beat; on the night of Oct. 18, DU's Battle of the Bands (BOTB) vivified the evening with rhythm and pulse.
DU fraternity Pi Kappa Phi hosted BOTB this year for the first time, not to be confused with the event put on by DUPB in February. Considering it was a Wednesday night, and given the lack of intersection between fraternities and the DU music scene, the evening's turnout was surprising.
BOTB was a big step in a new direction for the fraternity. "That's one of the things we wanted to encourage this week is that this isn't just like a Greek life thing," said Stuart Wemple, Pi Kappa Phi treasurer. "We want everyone to participate and join in, and I think we captured that pretty well with the Battle of the Bands."
Will Yantis, philanthropy chair for Pi Kappa Phi, explained, "We're going to make this an annual deal for our philanthropy week for a philanthropy called "The Ability Experience." We're the only fraternity in the nation that has its own nonprofit. Other fraternities and sororities go through a different organization, so this one's pretty special because it's run by us and it's all managed by us."
At around 6 p.m. the crowd grew silent and all eyes locked onto the stage to hear the first band of the night, Better Weather. They started their performance off with the song "Too Close for Comfort" from their new album, "Wayfare."
Fresh off of playing at the Fox Theatre in Boulder, Better Weather knew how to get a crowd moving. "A lot of people that heard us last night had never heard us before. We played our hearts out. We got the crowd from zero to hyped, so I was pretty excited about that. Everybody was dancing and having a good time," lead singer, songwriter and producer Skyler McCoy said.
Guitarist Sean Perman recalls the excitement of the crowd. "My favorite part of the night was definitely when people started moshing to 'Too Close for Comfort'. We have had to get new members because a few people moved, and that night felt like we were really starting to groove with the songs and play them well," he said.
By the time Better Weather finished their set, the sky had darkened, but the crowd was far from dimming down. Next up was Batterhead. Lead singer Max Ordoñez, better known as Lord Ord, took the stage in a sombrero, immediately winning the hearts of the crowd.
Staying humble and genuine, Ordoñez set the record straight before getting into the music, telling the crowd, "I don't even care if we win, I just want to sing for you guys!"
With a short but powerful setlist, the alternative rock band easily kept the momentum that Better Weather created. Perman never left the stage, laying down guitar for Batterhead in his second set of the night. "I get to play with my homies and it's amazing when the songs sound good on stage. It takes a lot of time and practice and it's dope when the crowd enjoys the music," he said.
The last band of the night was Assistance. For being a fairly new band, they had many loyal fans in the audience waiting to dance and sing along to their funky tunes. The band stayed true to their tagline "lending you a groovy hand since 2022," with a mix of instrumental songs and a well-received cover of Miley Cyrus's "Party in the U.S.A."
After around three hours of back-to-back entertainment, it was time to name the winner of the battle. Decided by audience applause, Assistance was crowned the winner of Pi Kappa Phi's 2023 Battle of the Bands.
"We were super happy to play for everyone. It was a great crowd and we had an amazing night," the winning band said.
As winners, Assistance received a $500 prize from Pi Kappa Phi, which was raised through ticket sales and other recent fundraising efforts.
While it was a battle, the evening ended with no animosity. The night was full of fun, and the bands had nothing but respect for one another.
"I was hyped that Assistance won. I think they are going to use that money for recording new songs. I'm just glad that Pi Kappa Phi paid the bands some money because usually bands don't get paid for playing house shows, and it goes a long way," said Perman.
McCoy shared a similar sentiment.
"I'm happy with the way we played and with the crowd's reaction. Even though we didn't win, it was still a memorable night. Plus, it's really hard to beat "Party in the U.S.A.," he laughed.
Pi Kappa Phi took a risk, but the positive feedback on the event was extremely rewarding. Yantis and Wemple both called the event a "trial fire" that paid off. The fraternity managed to build community between two groups that do not typically intersect, which everyone seemed to have been patiently waiting for.
"From a band perspective, it's really good that [Pi Kappa Phi] are organizing events for people to be playing at. Bands need to kind of break out and find an audience, and this is a great place for people to do that. Bands and the frat scene have been so separated for so long for no reason. I think it was a great collaboration," said McCoy.
"I've seen the DU band scene explode after COVID and it's been amazing, but it can be hard to find places to play around DU," Perman added.
In terms of the next steps, BOTB was only the beginning. "There is so much campus involvement with fraternities at bigger schools and we just felt there was a lack of that at DU, so some of the other guys on our executive board got together and we came up with this idea last spring, and have been working on it ever since. I'm excited to see what we can do next year," said Wemple.