A candid conversation with Arizona running back Zach Green and linebacker Cullen Gillaspia of Texas A&M about playing big-time college football and discovering the Kappa Alpha Order
Kappa Alpha Journal: How did you come to decide to attend A&M/Arizona and play football there?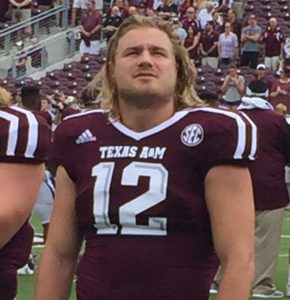 CULLEN: Coming out of high school, I had a few offers from smaller schools, and I decided that if I was going be playing major Division I football, I wanted to go to A&M. I wanted to get my education, so I applied to A&M. Literally two weeks after I got the acceptance letter, I got a email from a coach. I was actually sitting in my government class in high school. My dad sent an email saying "Hey, I think they just offered you walk-on spot at A&M." So fast-forward two weeks, get to go up there, meet a couple of the coaches, and started in June. Joined the football team.
ZACH: After my junior year, I was going through a whole bunch of camp circuits, but I wasn't really getting any offers. Then one day after practice, my dad calls me and says, "Zack, did you hear, you got an offer from the University of Arizona." I felt relieved and like the pressure was all gone. I just wanted to play college ball, and Arizona was the first one who gave me that chance.
I knew Arizona was interested in me from the beginning, and so I took my visit out there. I loved it. I loved the atmosphere. I loved the coaches. I loved the people on the campus, the fans, and it was close to home too, so I just pulled the trigger so I could focus on my senior year instead of all the recruiting and stuff like that. My senior year came and I rushed for over like 1,600 yards and the rest is history.
KAJ: What has been the most memorable moment of your college career?
CULLEN: Other than being named the 12th Man and receiving a scholarship from coach Sumlin, my most memorable moment, from a football standpoint, would be the Tech-Tennessee game last year, where I caused a fumble. We went to double overtime and ended up beating Tennessee. I still get some death-threats from Tennessee people.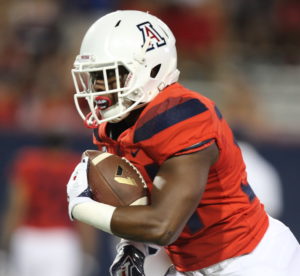 ZACH: Due to a lot of injuries, I actually got my chance to go out on the field in the game verses Colorado. I stepped up to the plate, and got my first touchdown. It was kind of like a weight lifted off my shoulders, and I felt like my old self again.
I didn't think anything was ever going to top that. The following game versus ASU, I just went off. I think the first game in forty years where there were three 100-yard rushers. I rushed for about 120 yards on 14 carries and had two touchdowns. It was crazy actually doing it against ASU because it is a nationally televised and known rivalry game.
KAJ: What's your favorite part about football, on or off the field?
CULLEN: The friendships that I have made. It's a fraternity within itself. The guys and the friends I've made on the team mean more to me than anything in the world. They're such a great group of guys, and the part that I enjoy most is that you get to hang out with guys and really get to know guys from all sorts of backgrounds. There are people from all around the county, who all have different stories. It's cool that the guys who elected me captain have trust in me to lead the team.
ZACH: The friends I have made along the way. In particular, Shawn Wick, the other running back who rushed for 1,000 yards my junior year in high school, still is to this day one of my best friends. He was going to play in the NFL, but he broke his collarbone, so he's trying out for the Canadian league right now. We still text each other, and we still watch each other's games. It's just awesome to see that we're still doing what we love.
KAJ: Why did you join KA?
CULLEN: I knew going into college that I wanted to join a fraternity. That was what I wanted to do, and joining KA was an easy decision for me. I knew that the guys that I met going through the recruitment process had a foundation and a background that was like my own. We were on the same moral compass. Joining KA was probably one of the best decisions I've made since coming to college.
It's cool to get a break away from football. Those guys have been super-supportive of me. When I come home, they don't want to sit there and talk about football, they want to get to know me, hang out with me. It's nice to be able to unplug from the athlete life and be able to just hang out with the friends I've made within KA.
ZACH: My freshman year, I was just getting acclimated to everything, and I was kind of a loner. Then I met some guys that were in KA. They told me to come over, and see how I like the guys in the house. I wasn't sure if I would have time for it or that my grades might suffer. They explained, "No, trust me. It's probably something you'll want to do. It's not all play. We go hard in the books, and if you need anything we'd help you and we'd be there for you."
I went there for spring rush, and I loved it. These guys were great, I connected with them instantly, and they took me in as one of their own, and it was nice to see a group of people that I could connect with.
It was just a different feeling, going from being a loner to having a group of guys and brothers that supported me every way, through every game. Even when I wasn't playing, they would cheer me up. There was death on the football team, and everyone in the fraternity came together and made sure I had my head on straight. This is just my home away from home. When I wanted to talk to someone I knew that, if I couldn't go to my football team, KA was always a place that I could go anytime of the day and if I needed any help, these guys were here. And I just love them for that.
KAJ: What does a typical day look like for you?
CULLEN: It's a full day. I wake up in the morning, then we have morning workouts at 7am, and then I have class all day. At 2:30, I head over to the locker room and start watching film and meet for a couple hours. Then we go outside and have a practice for a few more hours. By the time I get off the practice field, it's almost 8 o'clock at night. When I figure in my studies, it's a jam-packed day. It's an all day thing. It's a grind. But, I know at the end of the day, it'll make me better. It's just preparing me for life in the workforce and the life ahead of me.
ZACH: Football is so time demanding. We have lift starting at 6am. Then after those lifts at 6 am, we'd have mandatory study hall at 10am. After that, you have your classes. Then after your classes you have to come back for meetings, and your whole day is filled, and you only have so much time to do your homework. You pretty much have no time for fun, and I kind of realized that early on.
I didn't really get any playing time behind Ka'Deem Carey my freshman year. I needed to get my degree and focus on that, so I buckled down. I went to summer school. I'd take three classes in the winter. I'd take two classes every opportunity I'd get, and I ended up graduating in three years with my Bachelor's.
KAJ: What are you studying?
CULLEN: I'm an environmental geoscience major specializing on human impact on the environment.
ZACH: I got my Bachelor's of Science in Urban and Regional Development. For my Master's, I'm studying Real Estate and Development.
KAJ: How do you fill your time outside of football?
CULLEN: I love to hunt and fish. Those are my two biggies. Over the summer, I go down to Gavelston and go fishing just about every weekend. Then in the fall, I try to get into a deer stand as many weekends as possible, but with football, it's difficult. I love to cook as well. I do a lot of cooking for KA whenever we have crawfish boils or just hanging at the house. I'm always the one who's boiling 700 pounds of crawfish for the Superbowl party or things like that.
ZACH: Man, I don't really have time to do anything. So I was usually just sleep, maybe get a couple of video games in, maybe chill with a couple of friends.
KAJ: Who has made the largest impact on your life?
CULLEN: My dad is probably my biggest supporter out of anyone. And its kind of funny, because he took the same kind of route that I did. He was a walk on at Southwest Texas, or Texas State now. He walked on the football team, ended up earning a scholarship, and was actually the captain of the team as well. That's kind of the same path I took. To have him behind me and to know he went through the same thing, It's easy to talk to him. He knows what I'm going through, and he's always very supportive and trying to make me into a better athlete, better person as well.
ZACH: My dad is pretty much responsible for everything that's going on with me right now. I mean I wouldn't be in this position. Growing up, my parent's got a divorce, and my brothers and I had to choose who to live with as we became teenagers. I chose to live with my dad, and it was one of those crossroads. I knew that if I did this, my life's going to be dramatically different. I chose the hardest path, and I knew it would pay off someday. My dad has been there for every game, every practice, supporting me 110% of the way, and there's no way I could thank him enough for everything he's done. Hopefully, one day I can make it to the NFL and make him proud.
KAJ: Which is your favorite team and what players did you look-up to?
CULLEN: I've been a Texans fan my whole life. Definitely one player I look up to the most is Clay Matthews, hence the hair. I grew it out and wanted to be like him. He was a walk on at USC, and it's nice to know that there are other success stories out there like yourself.
ZACH: I don't really have any favorites. It's weird. I don't really watch NFL football like that. I don't watch any professional sports, because I'm really a college guy. Miami maybe. I was born there. The Dolphins might be a really cool team to play for since all my family is still out there.
Growing up, Ricky Williams was a running back I really looked up to. And my dad instilled that in me. That's why my number's 34. And Barry Sanders and Bo Jackson were people that I was compared to because of the size of my legs.
KAJ: What do you see in your future?
CULLEN: I'd like to try and play in the NFL. Whether that happens or whether that's a realistic thing or not, I don't know. I'm going to train for it, and if it happens, it happens. If it doesn't, it doesn't. If not, I have internship with an environmental testing company this summer, and I've got a couple opportunities that I hope to explore within the workforce. I'd like to maybe go into the oil fields or maybe do some kind of environmental consulting.
ZACH: I want to play in the NFL. The coaches in the NFL know that you can play if you play D-1 football, but they also want to know if you can protect their multi-million dollar investment. That's something that I've showed on multiple occasions, and I can definitely read defenses. I'm healthy, I haven't been injured, and I have a lot of mileage left on my legs. That's something that the NFL coaches also look at, so after this season, I'll probably look into a couple of agents and go into training right after this season ends.
My dad is an air traffic controller for the federal government, and he had me do a whole back up plan. I applied for the FAA last year after the season ended. After I passed all the pretests, physical, the FAA offered me a job for after the season. I plan to become an air traffic controller, if football doesn't really pan out.