Fresh from college graduation in 2001, Luke Stahmer, Sigma Nu at Colorado, was less than enthusiastic about his prospective job after majoring in finance with a minor in astrophysics. The opening was in Denver and it involved professional sports, but other details were scarce. He didn't know which of the city's teams was looking for help and he was turned off when he learned what the job entailed.
"I almost didn't go to the interview," Stahmer says. "It was cold-calling people from the Internet and trying to sell them season tickets. I thought it was for the Denver Nuggets and they were terrible at the time. I didn't want the position." But he checked it out and signed on with the Arena Football League's newest expansion franchise, the Colorado Crush, putting him on track to become the right-hand man for team owner and Denver Broncos legend John Elway.
Fast-forward 15 years and Stahmer remarkably has bridged the gap from one Stanford star to another — Ed McCaffrey — and helped the Global Down Syndrome Foundation (Global) organize their first "Dare to Play Football" and "Dare to Cheer" camps, which have served hundreds of children and young adults who have Down syndrome.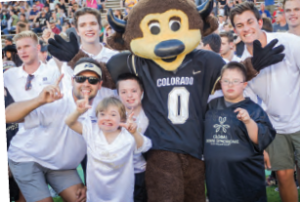 The camps are one of the many "Dare to Play" life skills camps organized by the Global Down Syndrome Foundation. Threetime Super Bowl winner and former Broncos wide receiver Ed McCaffrey serves as the face of Dare to Play Football Camp at Valor Christian High School and has involved
his four sons in the camp.
"When I was a freshman in high school, I joined almost every single one of my football teammates as camp counselors at the Global Dare to Play Football Camp," Christian McCaffrey told ESPN. "We were hooked from the moment we met the campers. And the truth is, the kids I work with help me far more than I could ever help them. They've made me realize that there's a lot more to life than just football. So much more. And participating in this camp every June is one of my very favorite things."
Stahmer's close relationship with Elway led to the McCaffreys' participation. Stahmer started out as the hard-working, 22-year-old, jack-of-all-trades and glorified gopher. He did whatever was necessary for the expansion franchise and star owner. "I worked seven days a week and 10 hours a day," Stahmer says. "The entire weekend would be shot. I flew on his private jet. He needed someone who could run around and get things done. Through those interactions, he and I were able to form a very strong bond."
"When I was a freshman in high school, I joined almost every single one of my football teammates as camp counselors with Dare to Play Football." — Christian McCaffrey, Denver Broncos
Working his way up the organizational chart, Stahmer was 27 when he became the youngest General Manager of a pro sports team in North America. He also served as Vice President of Operations. When the franchise folded in 2008, he was the last employee to leave, charged with turning off the lights and locking the door. But good timing and dumb luck let him to cross paths with Ed McCaffrey a few years earlier.
Elway was scheduled to appear at an event and sign autographs in exchange for $50,000, but something else came up. "He told me to get his Rolodex, look up somebody famous and pick a name," Stahmer says. "I came across Ed (McCaffrey), who was nearby, and he agreed." Stahmer began to organize service projects to elevate the Crush's presence
in the community. That work led to his connection with the Global Down Syndrome Foundation. Stahmer met the co-founder and President of the Global Down Syndrome Foundation, Michelle Sie Whitten, who was
considering establishing a football and cheerleading camp for children and young adults and Stahmer helped make it happen.
He had organized camps previously for inner-city youth and knew that McCaffrey ran camps through his foundation. He told McCaffrey about Michelle's vision and asked him to come aboard. They were a success from the start. McCaffrey arranged for the camps to be held at Valor Christian High, then ventured outside of Colorado for the fi rst time in 201 2. Ed McCaffrey was reunited with former Denver Broncos coach Mike Shanahan at the Navy-Marine Corps Memorial Stadium in Annapolis, Maryland, where more than 30 campers enjoyed a twoday camp that featured players from Navy's football team.
"That got us a huge response and nationwide TV coverage," Stahmer says. "We had a 90-second vignette on the Starz network which was started by Michelle's father, the cable pioneer John J. Sie. The feedback we were getting was these are the best and most influential camps that
anyone was ever involved in. The Denver Broncos have served as coaches and the cheerleading camp is led by the Broncos cheerleaders."
Stahmer has seen the diff erence in kids with Down syndrome. "Some of the little guys who had no self-esteem in middle school have since graduated from high school and were homecoming kings or on the football team," he says. "Little girls have become captain of their cheerleading squad. They've been embraced by the school at-large. No way would they have the selfconfidence to do what they did without their experience from these camps."
He's seen the difference in others, too, those who work at the camp and don't have an extra copy of chromosome 21. "Jocks and cheerleaders, the 'cool kids,' now are more comfortable with kids with Down syndrome," he says. "They have open hearts and are more sympathetic to the person at the supermarket or the kid with special needs wherever."
This year, for the first time, Global held an additional Dare to Play Football
and Cheer Camp with the University of Colorado Athletic Department and the Buffaloes. Three practices culminated with a scrimmage and cheerleading exhibition at Folsom Field during the Buff aloes home opener against Idaho State. Over 40 individuals with Down syndrome attended the camp, who were paired up with "PALS" made up of CU football players and cheerleaders and Sigma Nu brothers from the Gamma Kappa Chapter.
The Global Down Syndrome Foundation was considering the idea of football and cheerleading camps for children and young adults and Stahmer made it happen.
"At each practice we paired up a Sigma Nu with a kid with Down and a football player," Stahmer says. "Those three stuck together throughout each camp. They basically ran scrimmages and drills like any other camp,
like any football practice. At the opening game, the Sigma Nu guys were there, one-on-one with their pals. The cheerleaders performed and the football campers ran a scrimmage at halftime. Our Sigma Nus were incredibly gracious and wonderful."
Stahmer's full-time job is no longer in sports. He earned his MBA from the
University of Colorado-Denver in 2013 and now works in private equity. But he stays connected to sports through work with the National Football Foundation and College Football Hall of Fame.
And Global's Dare to Play Football camps, a legacy he passed down to his chapter brothers. "The Boulder camps are going to be the official philanthropy of our chapter," he says. "I'm a Sigma Nu, so you can really say this camp is part of the Sigma Nu family."
There's a simple lesson in Stahmer's story. It not only led him to facilitate life-changing camps for children and young adults with special needs, it took him on an incredible journey that included friendship with Hall of Famers and Super Bowl heroes. It even let him earn a championship ring when the Crush won ArenaBowl XIX in 2005.
He hesitated initially, but in hindsight he's fully enlightened: Take the interview. You never know what might happen.