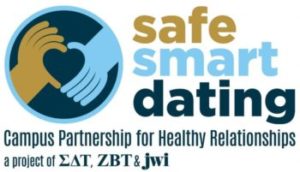 Since its debut in 2013, Safe Smart Dating has served Zeta Beta Tau as a program that seeks to offer a holistic approach to prevention education. Developed in partnership with Sigma Delta Tau Sorority and Jewish Women International, Safe Smart Dating serves as one of the premier national workshops on dating abuse and sexual assault for the Greek community on college campuses. In the last five years, Safe Smart Dating has been offered on 41 campuses and over 3,000 Greek men and women have participated.
Safe Smart Dating helps college students define, identify, and prevent dating abuse and sexual violence on campus. Safe Smart Dating is an interactive educational program designed to explore campus culture, define healthy relationships and train participants on how to be active bystanders.
"It was good to have both genders discuss so we could hear both sides of the conversation"
This program continues to receive praise and recognition from not only within the Fraternity, but also from our external stakeholders. In fact, Safe Smart Dating received a $50,000 grant from the Jewish Social Change Matching Fund and the North-American Interfraternity Conference's Laurel Wreath Award, which is presented to individuals or groups in recognition of their unique programs, community outreach or influence within the fraternal world.
Having both males and females as part of the program is extremely important. "It was good to have both genders discuss so we could hear both sides of the conversation," said one student participant.
Another student shares, "It brought up interesting ideas about dating abuse when you're in close proximity or have mutual friends with the abuser." Twenty other students agree with that statement, echoing this program was helpful.
As a strategic partner, Jewish Women International (JWI) serves as advocate for and partner in ZBT's mission and strategic plan to offer top-notch training to our brothers. JWI's reach extends far beyond just women and Jewish communities and their impact can be felt in diverse communities across the globe. Two of the ways in which JWI continues to support and impact ZBT brothers are through their Safe Smart Dating and Green Light: Go! programs.