The typical pathways to an NFL coaching position would be to play college or professional football, or to be born into a football coaching pedigree. Baltimore Ravens linebacker coach Mike Macdonald, Sigma Phi Epsilon (Georgia '10), isn't typical. When he enrolled at the University of Georgia as a finance major, he didn't have plans to become an NFL coach.
As a high school football player, Macdonald had been an obsessive student of the sport. He would bury himself in game film and scrutinize strategy. Following a career-ending injury, he found himself applying his knowledge as an unofficial member of his team's coaching staff. But football faded into the rearview mirror of life as Macdonald went off to college to pursue a career in finance.
Macdonald had initially been interested in what was known as the "athletic fraternity" at Georgia, but he couldn't look past the culture of hazing he knew was prevalent in that chapter. When he finally arrived at college, Macdonald realized he knew a few members of a different fraternity and decided to pay them a visit. He was immediately impressed by the way he saw the SigEp brothers treat one another and their guests with respect. He also noticed that this chapter appeared to be a carefully assembled collection of high-achieving men. And so accept-ing a bid to join SigEp was an honor, he recalled.
"The caliber of people around me in the Fraternity was phenomenal," Macdonald said. "I saw everyone around me excelling, and it inspired me to be a better man."
He watched as his SigEp brothers pursued their passions, stretched themselves and achieved their goals. Ultimately, he said, it was seeing this that pushed him to follow his heart and return to football.
While still in college, Macdonald decided to take an official coaching position with his old high school team. That's when he felt his love for the game reignite. He coached the team's linebackers and running backs, and he was named Coach of the Year after his first season.
Emboldened by his experience and inspired by the success of his SigEp brothers, Macdonald decided to take a chance and pursue a coaching career. There was some trepidation, though, about changing course and leaving ideas of a finance career behind.
"I graduated college without a job, which was a little scary," recalled Macdonald. "But I wouldn't have had the courage to take this path if it weren't for my brothers."
Macdonald was determined to work in football, and he wasn't without a job for long. His first break came the same month he graduated when he was asked to join the University of Georgia football team as a student assistant, helping coach and coordinate the offensive scout team. Just one season later, he helped guide Georgia's defense to the top 10 in the nation.
In 2014, the Baltimore Ravens scooped up the then-26-year-old Macdonald to serve as a coaching intern. After several promotions, he now coaches the team's historically dominant linebackers.
The importance of culture in SigEp and the NFL
Macdonald's acute sense of observation has provided him with not only powerful football acumen, but also with insight on what makes a great NFL coach. It's a role that often reminds him of his experience serving as chaplain for his chapter.
Macdonald recalled that in his early days as chaplain he naively believed his brothers would simply listen to what he said and follow his lead. He was immediately and unexpectedly humbled, he said, when that plan didn't pan out. Ultimately, Macdonald gained a clearer understand-ing of the value of building relationships first. Today, he applies this strategy in the Ravens locker room and on the field.
Macdonald asks players for their ideas and input, then combines those perspectives with his own game intelligence to craft winning solutions. For example, he would often consult with five-time Pro Bowl safety Eric Weddle, asking, "What are you seeing back there? What adjustments would you make for this opponent?"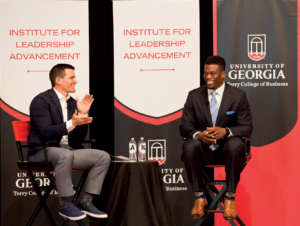 Macdonald also believes transparency is paramount. Players and coaches alike prefer to work with somebody who is honest with them, he said.
As a young coach (Macdonald is younger than many of his players), he often has to be conscious of not falling into the trap of trying to be liked instead of being honest. But players take comfort in knowing that they can trust what Macdonald says.
"If I tell a player that working on a specific ability or technique will lead to more playing time, they can believe me," said Macdonald. The cumulative effect is a culture based on trust and understand-ing and the comfort of knowing they're all working together toward a common goal.
According to Macdonald, culture is everything to the Baltimore Ravens. He and his fellow coaches invest considerable time in ensuring that the organization's standards and principles are not only articulated, but enforced. And the culture is at its strongest when enforcement and accountability don't just come from the top (coaches and staff), but when it spans across players, as well.
Emboldened by his experience and inspired by the success of his SigEp brothers, Macdonald decided to take a chance and pursue a coaching career.
Coaches rely on veteran players to support the culture and guide younger players the same way SigEp relies on upperclassmen to help guide younger members and vigorously defend organizational standards. When standards aren't being met in games, practices or even in meetings, Macdonald leans on team leaders like seven-time Pro Bowl linebacker Terrell Suggs.
Macdonald is a natural fit for the Ravens, a team that operates on transparency, mutual respect and a culture that puts people first. And while his meteoric rise to coaching in the NFL is a dream come true, he's careful to not look too far ahead in his career. "There's a lot of growth left before I'm ready to become a head coach," he said. "I'm focused on being the best linebackers coach in the NFL right now."