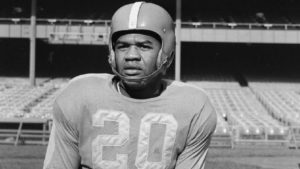 George Taliaferro, a member of Kappa Alpha Psi Fraternity, who in 1949 became the first African-American player to be drafted by an NFL team, died Monday night at age 91.
His death was announced by the George Taliaferro Sport Association.
Taliaferro, who was a three-time All-American at Indiana, was drafted by the Chicago Bears in the 13th round of the 1949 draft, but he never played for the team.
He had already committed to play for the Los Angeles Dons of the All-America Football Conference and played for the team during the 1949 season. Taliaferro was a Bears fan but had signed with the Dons a week before the NFL draft.
"I knew everybody who ever played with the Bears," Taliaferro told The Undefeated last year. "That was my team."
Taliaferro entered the NFL in 1950 after the AAFC folded and played six seasons, with the New York Yanks (1950-51), Dallas Texans ('52), Baltimore Colts ('53-54) and Philadelphia Eagles ('55). He was selected to the Pro Bowl in three consecutive seasons, from 1951 to 1953.
Colts owner Jim Irsay tweeted that Taliaferro was "a trailblazer and a true gentleman."