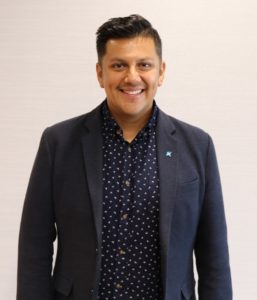 Danny Rojas, a member of Phi Iota Alpha, is the Vice President of Programs at All Star Code. Danny brings a diverse set of experiences and expertise from leadership roles in corporate, nonprofit, management consulting, and startup environments. Before joining the team at All Star Code, Danny worked at General Assembly as a Global Account Director, responsible for top tier commercial relationships, revenue, and expansion. Danny has a B.S. from Boston University in Biomedical Engineering and is sought-after advisor, coach, and national leader in the Latino community. With aspirations to build the next biomedical breakthrough, Danny only lasted 3 months in his intended career. This failure was the catalyst for a 20-year career journey characterized by experimentation, continuous learning, and seeking problems worth solving.
All Star Code creates economic opportunity by developing a new generation of boys and young men of color with an entrepreneurial mindset who have the tools they need to succeed in a technological world. All Star Code envisions a country where all young men of color have access to the tools of success, where the ability to thrive is available to all who are willing to dare greatly.
Q: How did you hear about All Star Code?
A: One day while I was at General Assembly, I heard a lot of laughter in the main events space. It was intriguing, so I went out into the space and I saw about twenty young men of color, talking about code and celebrating failure. They must have been high school students, I thought. I was curious, it was 2017, it seemed pretty collegial, and I was like what is this event about?
It was an All Star Code site visit for one of their Summer Intensive cohorts. I learned about All Star Code in that way. I was curious about what they do, and I learned that they were a computer science nonprofit, focused on young men of color in high school! That really drew me in, particularly aligned with my passion for diversifying the tech talent pipeline. I just thought that wow, that's really cool what All Star Code is focused on, and that's how I got my first dose of All Star Code.
Q: What made you make the jump from General Assembly to All Star Code? What drew you to this program specifically?
A: A few big things. One was the singular focus on boys and young men of color. I'm very much aware of the inspiring work of Girls Who Code and Black Girls Code — tackling and elevating the conversation around gender equity in tech continues to be so important for all. What hasn't been as visible has been the work for boys and young men of color. Picking that lane was something that really attracted me to All Star Code.
I also sit on the board of trustees of my national fraternity, Phi Iota Alpha, which is a Latino fraternity that was founded in 1931. My role at ASC to build a community and network for our students is very much analogous to my responsibility in educating younger generations of my own Latino fraternity brothers. ASC's use of the word "brotherhood" is very impactful, and explicit.
The third thing I would say attracted me is the programmatic model of actually having our students reside in technology companies like Google, Facebook, Goldman Sachs, etc., and giving them exposure to guest speakers and mentors. That, to me, is incredibly powerful: to put you out of your element, and to see the skyline and think do I really belong there? We're actually putting you in there. That, to me, is another really attractive element.