The newest members of the Vanderbilt Student Media Hall of Fame are a musician turned rocket scientist, a journalist battling corporate news chains, a former ambassador building U.S.-Canadian relations, a lawmaker working to protect children and consumers, a marketing executive raising Vanderbilt's international profile, and a distinguished law professor.
Selected for the 2018 class are Scott Hubbard, Richard McCord, Bruce Heyman, Mary Margaret Oliver, John Hindle and Paul Kurtz.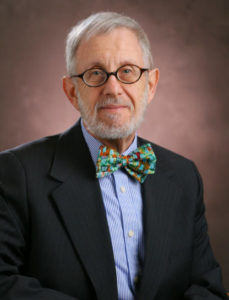 PAUL KURTZ
"The Hustler was like a home away from home," said Kurtz, who was a little homesick when he came to campus in 1964 from Spring Valley, New York. During high school, Kurtz worked summers for a Rockland County newspaper. He covered sports all four years at Vanderbilt and was sports editor his junior and senior years.
"I didn't 'live' at The Hustler, like some of my friends, but my freshman dorm—Vanderbilt Hall—was only about 200 yards away from the office in Memorial Hall," Kurtz said. "I would go the printer off campus some nights to watch the process of setting and proofing the copy." He was also active in Alpha Epsilon Pi social fraternity and was elected to several offices, including president.
One of his most vivid memories was the late Perry Wallace breaking the color barrier as the first African American basketball player in the Southeastern Conference.
The early days of the Impact Symposium, on which Kurtz served on the board of directors, also made a huge impression on him. Speakers while Kurtz was a student included Stokely Carmichael, Martin Luther King Jr., Alexander Kerensky and Barry Goldwater.
"My advice to student journalists is to be very aware of your surroundings because you can miss something newsworthy if you're not looking carefully," Kurtz said. "Also, avoid specializing in just one area if you want to increase your marketability after graduation."
Kurtz, who majored in political science, after considering graduate school in journalism, chose to attend law school in 1969. He received his Bachelor of Arts in 1968 and his Juris Doctorate (also from Vanderbilt) in 1972.
After earning a Master of Laws at Harvard, Kurtz joined the law faculty at the University of Georgia in 1975, where he specialized in criminal law and family law. A recipient of the University of Georgia President's Medal for distinguished service in academic work and community service, Kurtz is now an emeritus professor and represents Georgia as a commissioner on Uniform State Laws and has chaired a number of accreditation visits of law schools for the American Bar Association.