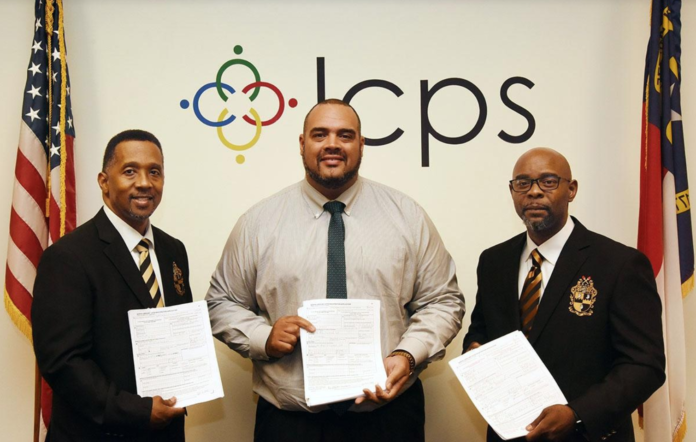 A registration drive coordinated by LCPS high schools and the local chapter of the Alpha Phi Alpha fraternity has added 279 students to the voter rolls in Lenoir County.
Approached by members of the fraternity's Nu Iota Lambda chapter in September, school district administrators took the request to high school principals, who introduced it to their faculties. Voter registration forms were made available to students who are 18 or will be 18 by Election Day on Nov. 6 and fraternity members conducted a drive at a recent Kinston High School football game.
"Each school pretty much did its own thing," James Mumford, a fraternity member, said. "We're just excited the schools participated."
This is the second voter registration campaign involving LCPS high schools in recent years. Ahead of the 2016 election, LCPS cooperated with the NAACP to get young voters signed up. Assistant Superintendent Nicholas Harvey II said the school district and its high schools were pleased to be part of another campaign. "Voting is a constitutional right and students of voting age should have the opportunity to exercise it," Harvey said. "Our high school principals and their faculties embrace these efforts as another step in the process of helping mold productive citizens."
For Alpha Phi Alpha, voter registration projects go to the core of the fraternity's mission, according to chapter president Derrick Wiggs, an assistant principal at Rochelle Middle School.
"This is one of our oldest national projects," Wiggs said. "It started back in the 1930s when they were just trying to get blacks the opportunity to be heard and to come out (to vote) without feeling like they were persecuted. We just keep trying to push that as one of the goals of our chapter." Founded in 1907, Alpha Phi Alpha is described as a social organization with a service organization mission. Its voter registration initiative is conducted under the banner "A Voteless People is a Hopeless People."
"As a fraternity, since this is one of our national programs, we just wanted to get it done," Mumford said. "We're ecstatic." Showing some of the results of the voter registration drive conducted by Alpha Phi Alpha fraternity and LCPS high schools are, from left, Derrick Wiggs, president of the fraternity's Nu Iota Lambda chapter; Assistant Superintendent Nicholas Harvey II; and fraternity member James Mumford.