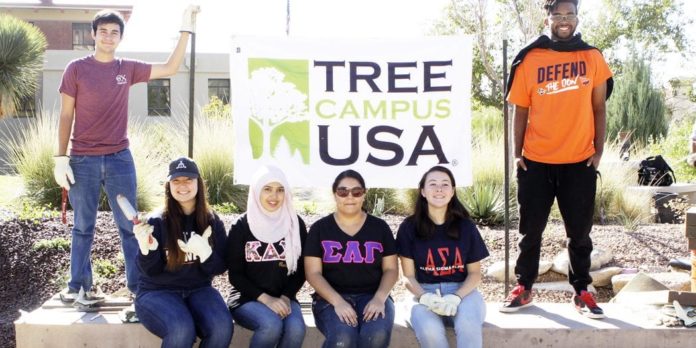 UTEP is one of 364 colleges and universities to receive this distinction, which shows the University's commitment to encouraging students and personnel to care for the planet's tree resources.
The University, which was recognized for its commitment to the environment and its devotion to student outreach, has more than 3,000 trees across the luscious campus landscape, and some of them were planted by students over the years.
As part of the annual Greek Day of Service and Texas Arbor Day, students armed themselves with gloves, rakes and trowels on November 2 to plant several trees and shrubs between Old Main and the Psychology Building.
In the past, the fraternity and sorority community has completed numerous landscape renovations, and it has become an annual event that showcases their commitment to campus beautification, said Bruce Erhard, UTEP's grounds manager.
Greg McNicol, associate vice president for facilities management, said that the respect to the environment, including the trees, is part of UTEP's culture.
"It's that commitment that we have that recognizes the importance of the campus tree," McNicol said.
"It not only provides shade, but it also protects the soil, saves energy and increases air quality."