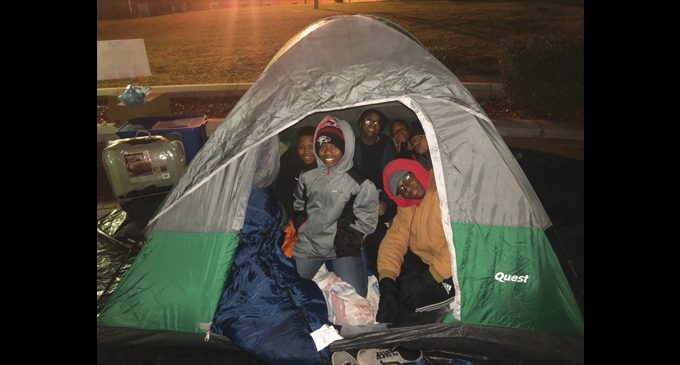 Visiting a college campus recently seemed different for members of the Sigma Beta Club (youth male auxiliary group of Phi Beta Sigma Fraternity). On Friday evening, Nov. 16, members of the Sigma Beta Club participated with the Delta Alpha Chapter of Phi Beta Sigma Fraternity, Inc. during their 22nd annual Sleep-Out for the Homeless at the clock tower of Winston-Salem State University (WSSU) from 6 p.m. until 6 a.m. 
The purpose of the event was to raise awareness on poverty and homelessness in the triad community. The two organizations braved the elements of sleeping outside to bring a sense of solidarity, sensitivity and awareness to the plight of those less fortunate.
During the 12-hour event, donations of clothing items, non-perishable food, and monetary donations were collected.  These items will be donated to organizations such as the Winston-Salem Rescue Mission, the Second Harvest Food Bank of Northwest North Carolina, and the Samaritan Ministries.
The Delta Alpha Chapter of Phi Beta Sigma introduced this program to the WSSU campus in 1996 as part of its Social Action Program. For the last 22 years, on the Friday before Thanksgiving, fraternity members have slept in cardboard boxes, sleeping bags, tents, etc. in an effort to raise awareness about the issue of homelessness.
Originally starting off as a one-day event, the Sleep-Out for the Homeless has blossomed into a week filled with different activities meant to address the concerns of the homeless in the area. Activities held throughout the night were a reflection session discussing the sleep-outs of the past and a Candlelight Vigil, where the participants were given the opportunity to express what they are thankful for as they approach the holiday season.