Beta Theta Pi brother Trevor Neal is a busy student at Missouri University of Science and Technology in Rolla, MO, who used his recent spring break to fight for a cause close to his heart. Neal ran for 24 hours straight on March 30 to raise money for suicide prevention.
Neal says he raised close to $2,000 for suicide prevention, which is double what he originally thought he would raise. And although he didn't make his beginning goal of running 100 miles, he did keep moving for the entire 24-hour period.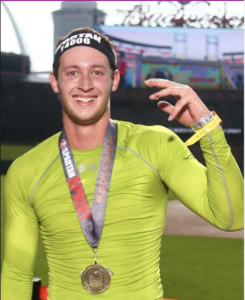 "In high school, I lost a close friend to suicide, so the topic is very close to me."
A native of New Bloomfield, MO, Neal graduated in 2014 from Fulton High School. He returned to his alma mater to use the school track for his 24-hour journey. A number of Westminster and William Woods students joined Neal on the track to offer their support.
"They showed up through the late hours of the night to walk a mile or two with me and prevent me from getting tired," Neal says.
During the final lap, about 20 more people turned out to run with Neal, including family members and Beta brothers.
A natural athlete who ran track in high school and played soccer at Westminster for two years, Neal is inspired by ultra-athlete David Goggins, Spartan Races, and the leadership skills he acquired while majoring in Chemistry and Physics at Westminster. Neal is enrolled in Westminster's dual-degree engineering program with Missouri S&T, where he is earning a degree in aerospace engineering.
Of his Westminster days, Neal says, "Of course I got a great education, but more importantly, I learned how to be a leader in the professional world."
Neal currently is getting his feet wet in professional leadership by working as a personal trainer when he isn't busy studying. His recent fundraising effort is a natural extension of that leadership mindset.
After the 24-hour trek, Neal says he went home, slept, and woke up sore but ready to take on other challenges. "I'm really glad I did it," he says simply.