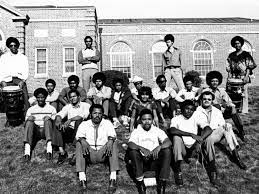 W.E.B. DuBois, Martin Luther King Jr., Congresswoman Shirley Chisholm, and Vice President Kamala Harris. They all share a vision of a more equitable future. But they also have something else in common: they were all members of Black fraternities and sororities, organizations that cultivate communities of highly engaged students and tight-knit alumni who helped change the story of the United States through their leadership.
During the 100 years spanning the end of the Civil War (1865) to the Civil Rights era of the 1960s, most Black college students attended historically Black colleges and universities (HBCUs). The first HBCU was founded in Cheyney, Pennsylvania in 1837. But the majority of these institutions were created after 1865 in the southern U.S. by Black Americans to educate Black students. Due to segregation, HBCUs offered one of the only paths to college degrees in many states.
By the early 20th century, though, change was brewing. The Niagara Movement — the precursor to the development of the National Association for the Advancement of Colored People (NAACP) — kicked off in 1906 with a call for civil rights. Soon, the Great Migration (1910-1920) saw Black Americans moving away from the South to more industrial northern cities, where they had more access to education and more opportunities to vote. In the midst of this social change, more African American students began attending traditionally white college campuses. Despite being admitted to study at some of these schools, Black students often had to contend with separate and unequal circumstances on campus. Campuses were often segregated, with different facilities for dining, living and socializing for Black and white students, and white social organizations often banned Black members.
As a result, Black students began to form their own social groups, including five fraternities and four sororities that together have become known as the Divine Nine. These Black Greek Letter Organizations (BGLO) were each founded on the idea that African American college students should have a place to build strong connections with one another and to be of service to others. Though each sorority and fraternity has its own meaningful symbols, colors, unique hand gestures, and call signs that you may hear during one of their social events, since 1930 they have coordinated their efforts through the National Pan-Hellenic Council Inc. Collectively, the Divine Nine have supported individual academic achievement and served communities through volunteering, advocacy and activism for nearly 100 years.
While six of the Divine Nine were founded at historically Black colleges and universities, the first two Black fraternities were formed on the campuses of predominantly white schools: Cornell University in Ithaca, New York, and Indiana University in Bloomington, Indiana.
Who are the Divine Nine?
Alpha Phi Alpha Fraternity, founded at Cornell University in 1906

Notable members include Supreme Court justice Thurgood Marshall and comedian Dick Gregory

Alpha Kappa Alpha Sorority, founded at Howard University in 1908

Notable members include director Ava DuVernay and actress Phylicia Rashad.

Kappa Alpha Psi Fraternity, founded at Indiana University in 1911

Notable members include actor Lance Gross and comedian Cedric "The Entertainer" Kyles

Omega Psi Phi Fraternity, founded at Howard University in 1911

Notable members include poet Langston Hughes and comedian Steve Harvey

Delta Sigma Theta Sorority, founded at Howard University in 1913

Notable members include civil rights leader Mary McLeod Bethune and congresswoman Shirley Chisholm

Phi Beta Sigma Fraternity, founded at Howard University in 1914

Notable members include scientist George Washington Carver and congressman John Lewis

Zeta Phi Beta Sorority, founded at Howard University in 1920

Notable members include singer-songwriter Syleena Johnson and author Zora Neale Hurston

Sigma Gamma Rho Sorority, founded at Butler University in 1922

Notable members include poet Joyce Carol Thomas and singer Fantasia Monique Barrino-Taylor

Iota Phi Theta Fraternity, founded at Morgan State University in 1963

Notable members include U.S. Rep. Bobby Rush and basketball player Calvin Murphy
Kappa Alpha Psi: A portrait of brotherhood
Indiana University was founded in 1820, but the first African American student, Harvey Young, wouldn't be admitted for another 60 years. And it wasn't until the 1890s that Marcellus Neal would become the first African American graduate. These students paved a path forward that wasn't easy, as they faced racial prejudice and discriminatory practices that excluded them from social gatherings and living in campus dorms.
WATCHPretty Little Liars Cast Say Goodbye to Their Characters
As more Black students matriculated, they founded the second Black fraternity in the U.S. and the first at IU: Kappa Alpha Psi, established in 1911. This filled a much-needed void for Black students, but the fraternity faced challenges from the start.
Even after the organization was officially incorporated in the state of Indiana, the university refused to grant the fraternity a charter. As a result, members struggled to find meeting spaces and to establish a fraternity house. But Kappa Alpha Psi was always a forward-looking group, with the goal of expanding to other schools. A second chapter was chartered in 1913 at the University of Illinois, and by 1921 there were more than 12 chapters, including groups in Iowa, Ohio, and Pennsylvania.
As the fraternity grew, so did the outreach and activism of its members. Kappa Alpha Psi inaugurated its first national program, Guide Right, in 1922. The service program provided mentorship and tutoring services to high school and college students. As more Black students began to take on the fight to break down racial barriers to the courts, BGLO members were both plaintiffs and legal representatives in various cases. In 1924, Kappa Alpha Psi members Elisha Scott and R.M. Van Dyne represented an African American student who was denied enrollment at the newly built Roosevelt Junior High School in Coffeyville, Kansas in a lawsuit.
In 1935, two of the Divine Nine demonstrated the power of joining forces: Kappa Alpha Psi and Alpha Phi Alpha, the fraternity founded at Cornell, worked together on a discrimination case. Kappa Alpha Psi member Donald Gaines Murray brought a lawsuit against the University of Maryland when he was denied entry to the Law School, and Alpha Phi Alpha fraternity funded the lawsuit. Alpha Phi Alpha member Thurgood Marshall also litigated the case — the start of his rise in the civil rights movement.
While teamwork between Black fraternities led to legal challenges of segregation in courtrooms, members were also fighting discrimination on the basketball court at Indiana University. Bill Garrett, a Black basketball player, led his high school team to become state champions in 1947, and was admitted to Indiana University that fall. While Garrett was a shoo-in for the freshman basketball squad, Black athletes were barred — unofficially — from Big Ten varsity teams. As a member of the Kappa Alpha Psi fraternity, Garrett found support from his fraternity brothers and community members, and successfully challenged the ban. He made his varsity debut in December of 1948, and played until his graduation in 1951.
In his time on the team, Garrett never played with or against a single other Black athlete, but his legacy helped open doors for future students. Garrett was later recruited by the Boston Celtics and played for the Harlem Globetrotters before returning to Indiana to become a high school educator and coach.
The activism of Kappa Alpha Psi athletes has continued. During the NFL's 2016-2017 season, former San Francisco 49ers quarterback and Kappa Alpha Psi alum Colin Kaepernick protested racial injustice by kneeling during the National Anthem. His actions were controversial, but his fraternity brothers were at his side. After Kaepernick was not signed with any team for the following season, Kappa Alpha Psi sent a letter of support to NFL Commissioner Roger Goodell. Fraternity members held protests outside of NFL games, and even in front of the NFL headquarters in New York.
A legacy of civil rights organizing
Through collaborative work, the Divine Nine became key supporters of civil rights, forming close relationships with the National Association for the Advancement of Colored People (NAACP), the Congress of Racial Equality (CORE), and the Southern Christian Leadership Conference (SCLC). But each organization also continued to focus on expanding their reach on campuses across the U.S. and around the globe. The Alpha chapter of Kappa Alpha Psi is still active on the campus of Indiana University, and there are more than 700 undergraduate and alumni chapters chartered worldwide. For many fraternity brothers, the impact of Kappa Alpha Psi can't be captured in numbers. "The mission of Kappa Alpha Psi is focused on achievement and service," said fraternity member Daniel Green, a member of the Omicron Tau chapter who graduated in 2009. "As a young man, my fraternity experience exposed me to a culture of aspiration, which was pivotal to my growth and development as I entered into adulthood."
Most Popular
The staff at the Indiana Historical Bureau heard the same sentiment repeatedly when an application to honor the fraternity was submitted to the state historical marker program.
Active since 1946, the program relies entirely on the public requesting to have important places, people, and movements memorialized with a bronze marker. The Indiana Historical Bureau then works with the public to research the history and present a story that is both accurate and meaningful to the community, and the markers are installed with a dedication ceremony.
When the Kappa Alpha Psi historical marker was dedicated on October 28, 2008, it was one of the largest dedications in the state's history. Over 100 fraternity brothers from across the U.S. showed up to celebrate.
The Great Plains Black History Museum in Omaha, Nebraska wants to share the history of Kappa Alpha Psi, and all the other BGLOs. Starting in October of 2023, the museum will be hosting a nine-month exhibition. Each month the Museum will highlight one of the Divine Nine, displaying artifacts and offering programs to tell the story of these organizations, their members, and the role they played in pivotal social movements that are an integral part of our U.S. story.