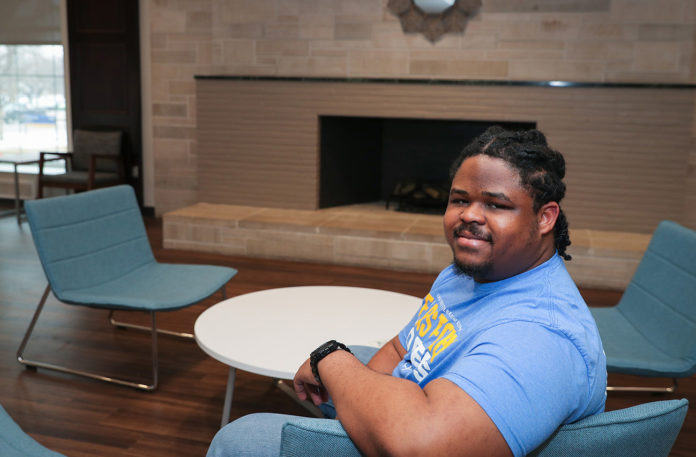 KEARNEY – Shawn Peterson didn't know what to expect when he arrived in Kearney in January 2021.
"Coming here was completely new to me," he said. "I'd never seen snow before. I'd never been in weather this cold before."
That's exactly what he was looking for.
The University of Nebraska at Kearney sophomore grew up in Sint Maarten, a tropical island that offers warm weather and pristine beaches but lacks the college programs he needs to prepare for medical school. Peterson considered attending a university in Florida, where his family frequently vacationed during fall break, before changing his mind.
"I wanted to go somewhere different," he said. "So I went on Google and just searched 'cold colleges' and 'cold universities,' and the University of Nebraska came up."
Unaware of the different campus locations in Kearney, Lincoln and Omaha, Peterson thought he was applying to UNL. He ended up getting accepted into UNK.
"It's kind of funny explaining this to people," he said. "I'm actually here by accident. But honestly, the school size here at UNK is way better. I don't think I would have liked the bigger school size at Lincoln, so I'm happy I made that mistake."
Although Kearney and Sint Maarten have their differences – he definitely misses the Caribbean food from back home – Peterson was able to find one very important similarity.
"There's a community here. Despite your differences, everybody comes together and supports each other," he said. "That's something that was very strong back home – everyone knows each other and helps each other – and that's one thing I was happy to come into and be part of.
"All international students, not just myself, we all feel like we belong at UNK and in the Kearney community."
During his two years here, Peterson has become a leader on campus and a role model for other students, regardless of where they're from.
He's active in the Black Student Association, Global Student Association and International Student Association, serving on the committee that organizes the annual Scott D. Morris International Food and Cultural Festival, a popular event that brings the campus and community together to celebrate diversity and learn about different cultures from around the world.
Peterson is involved in Fraternity and Sorority Life as vice president of membership development for his fraternity, Pi Kappa Alpha, and he recently completed his term on the Interfraternity Council, which governs the five Greek fraternities at UNK. He also serves as a resident assistant in Martin Hall, the new fraternity housing that opened last month on campus.
Additionally, he's an associate justice on UNK Student Court and a member of the organizing committee for the annual Out of the Darkness Campus Walk supporting the American Foundation for Suicide Prevention.
In Sint Maarten, Peterson served his community by volunteering through the Red Cross.
"I get excited when I do different community service projects because I enjoy giving back to the community," he said. "I may not be from Kearney, but Kearney has given something to me so the least I can do is give back to it."
He hopes to inspire more international students to get involved with campus and community organizations.
"I'm trying to show them that it's not only for domestic students. You're a part of the campus, so you can be in these leadership roles, too," Peterson said. "If you have the qualifications, you should go for it."