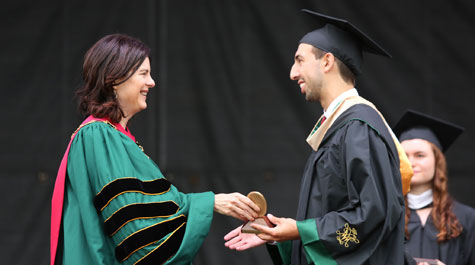 Named in honor of Algernon Sydney Sullivan, a lawyer and activist, the Sullivan Awards are distributed each year to students in recognition of their influence for good, taking into consideration such characteristics as heart, mind and helpfulness to others. It was established by the New York Southern Society to perpetuate Sullivan's memory.
Jerry Shaen of Delta Chi exemplifies what it means to be liberally educated, according to his award citation. A business major with a concentration in marketing and a minor in art, he is among the university's most recognized campus leaders.
For the Office of First Year Experience, Shaen was selected for a coveted orientation area director position and worked for more than a year to plan orientation schedules, select and train orientation aides and to execute an intensive five-day-long orientation program, the citation says. In the area of Fraternity & Sorority Life, Shaen led by serving as an executive board member of his own chapter of Delta Chi and this past year as president of the InterFraternity Council, the governing body for the university's 16 recognized chapters.
Shaen's dedication to the wellbeing of fraternity men was evident in his creation of a new IFC executive position, vice president for health and wellness, the citation notes.
Passionate about serving those in need, Shaen has been the co‐executive director of TribeTHON, a campus‐based dance marathon that raises funds for Children's Miracle Network Hospitals. Applying his marketing know‐how with his leadership skills, TribeTHON is the top fundraising organization on campus with more than $144,000 raised over four years.