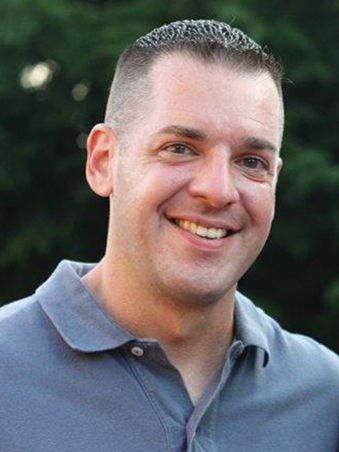 It started as a bucket list road trip and has morphed into a journey of its own.
Matt Shanahan, Iona '96, is a high school history teacher who has a love of monuments and historical sites. Naturally, he has wanted to see as many as he can up close and personal. So, about a decade ago, he set off on a cross-country road trip. Starting in his home state of New York; down the East Coast through Massachusetts, Virginia and down to Georgia; over to New Orleans, San Antonio and eventually California; then back through the Rocky Mountains and Great Plains; and up to Cleveland before making his way back home. He took in the history, marveled at America's beauty and thought a lot about how fortunate he was to have the opportunity to travel the United States and visit the places that always interested him. Soon, he began to wonder how he could help others go on a similar journey when they may not have the means or opportunity to travel.
Upon arriving home, Matt shared his plan with his close friend, Joe Chera, Iona '01. Children's books. Matt would begin to author a series of books that took kids on a journey through time and across the country to learn about the figures and events that have shaped America.
"Children's books? That's something someone else does," Joe thought. But after hearing the passion in Matt's voice, the project began to make perfect sense.
"[Matt's] a teacher, and a great one at that," Joe said. "He's an even better father. When he spoke about this idea he had, to teach children about our country and its vast wonders through the eyes of a child in a book… no brainer!"
Today, Matt serves not only as a history teacher, he has added "author" to his resumé. Through "Timmy Tucker's Fabulous Dream Adventures," young readers are learning U.S. history in a unique way. In each book, the dreams of a young boy bring his teddy bear to life as the two are transported via a magical bedroom blanket to different historical sites and events.
"When thinking about creating a series of books, I realized general history books are a dime a dozen and, for the most part, not necessarily entertaining," Matt said. "Kids learn through entertainment and what draws them in." This is where Timmy Tucker comes in. By creating a character children can relate to and tying in the fantasy of a magical bear and blanket, the goal is for children to become excited about U.S. history at a young age and gain a better understanding of the past.
The plan is for "Timmy Tucker's Fabulous Dream Adventures" to be a 51-book series—a book for each state and the U.S. capitol. Each book will highlight important events in each state, discuss landmarks and even include a "visit" from a special historical figure.
Matt's first two books, which he self-published, can be found on Amazon and Barnes & Noble's website. The first takes Timmy to Washington, D.C. and a meeting with Abraham Lincoln, while the second features Massachusetts and a ride with Paul Revere. Book number three will publish later in 2019 and highlight New York.
"I decided on doing the capitol, Washington D.C., first because I have always been enamored with all of the sites, monuments and important buildings being so close to each other," Matt said. "I chose Massachusetts next because of its rich history, especially at the start of our nation's founding. My next book is going to be New York because of its historical provenance, and naturally, because it's where I have lived 99 percent of my life."
Despite the self-publishing process being intimidating a first, Matt is glad he chose this route. As opposed to signing with a corporate publisher, Matt uses Authorhouse to self-publish his books. Through this company, he has access copy editors, printers and advice as needed, as well as the freedom to make decisions around the books on his own—something you do often get when signing with a traditional publisher.
"Once I got past the fear of the unknown, it was an extremely easy and enjoyable, step-by-step, watching the process develop until fruition," Matt said. "There is no more amazing feeling than to see your words and creative thoughts in a book that will forever exist for others to read."
One decision Matt was able to make himself was that of hiring his own illustrator. A bit of a family project, as Matt has dedicated the books to his son, he also hired a coworker from Sacred Heart High School in Yonkers, New York to do the illustrations for "Timmy Tucker's Fabulous Dream Adventures."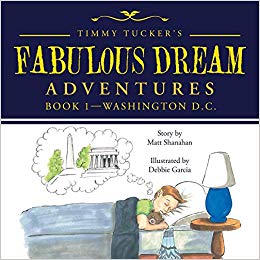 Upon seeing one of Debbie Garcia's illustrations from a design class she was teaching, he asked if she would be interested in helping with the books. Though she didn't have experience illustrating novels, she didn't want to turn down the challenge. Now, Matt and Debbie work as a team to visually bring Timmy's dreams to life.
"I think that the collaboration works so well because Matt understands the limitations that I have as a teacher and a mother," Debbie said. "He is very organized and handles all other aspects of the creation of the book, which helps me to focus simply on the illustrations. It takes a lot of the pressure off, which helps keep me in the creative process. At the end of the day, this is Matt's brainchild and I consider myself a passenger along for the ride."
Though Matt's journey as an author has just begun, he has big plans for "Timmy Tucker's Fabulous Dream Adventures." After the 51-book series is complete, he hopes to be able sell it as a box set with an accompanying teddy bear and magic blanket. An even bigger goal is for the books to be made into a video cartoon series. Always a teacher, Matt wants children to be able to learn in a number of ways.
"I hope that children can find the passion and love for history, historical sites and events as I have," Matt says. "I look at history as being one long movie with many different parts and subplots going on that got us to where we are today. If children can grab onto that passion, then I'm literally educating them outside the boundaries of just my own classroom."