MEMPHIS, Tennessee — Pi Kappa Alpha International Fraternity is pleased to highlight Mu Rho Chapter at Christopher Newport University. President Seth Powers '17 shares more about the chapter's efforts to support a brother following his cancer diagnosis.

Members: 92
Total philanthropy $ raised for Dominic's medical expenses: $4,601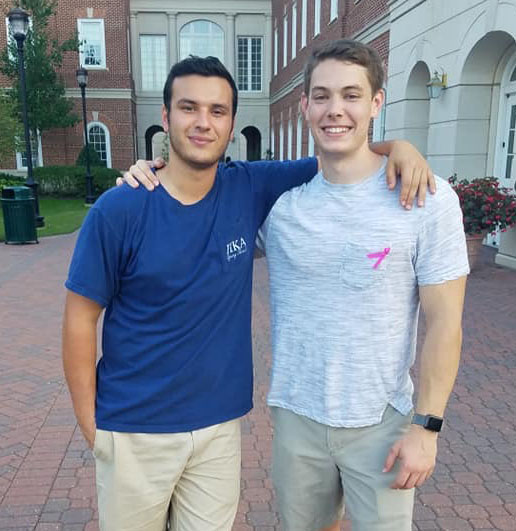 In December 2018, Dominic De Sanctis '17 was diagnosed with Hodgkin's Lymphoma. He soon began biweekly chemotherapy treatments. His Mu Rho Chapter brothers were determined to stand by his side.
De Sanctis, a founding father of his chapter, has always been passionate about giving back. He previously served as philanthropy chairman.
"Dominic has been a mentor in the chapter," Powers says. "His hard work for our philanthropy during his time as chairman helped us to achieve our highest ever donation to our local children's hospital, Children's Hospital of The King's Daughters."
It was time for the chapter to give back to him. Brothers organized a fundraising event to assist his family with medical expenses. In February 2019, the chapter hosted a head shaving event on campus. A t-shirt fundraiser was also held to provide additional support to the De Sanctis family.
More than 30 brothers volunteered to shave their heads to raise money for De Sanctis. The event was livestreamed on Instagram to generate awareness, and over 100 individuals donated a total of $4,601 to participate in shaving the members' heads.
De Sanctis is looking forward to completing chemotherapy in June, and another t-shirt fundraiser will be held in the fall. His brothers are eager to welcome him back.
"Having his presence back in the chapter room and on campus will motivate our men to do even better," Powers says. "Keep fighting, Dom!"