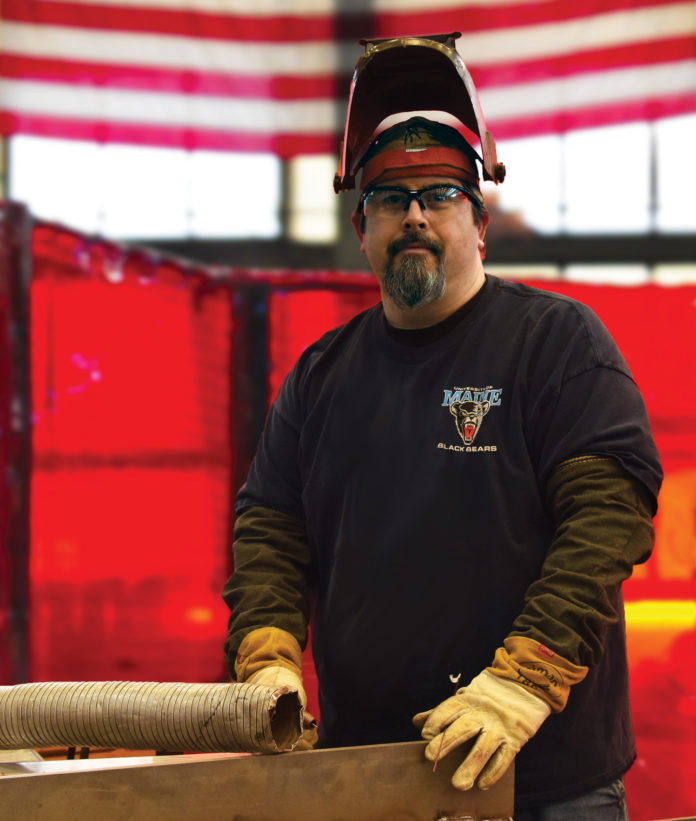 Being a welder takes skill; of course, not just anyone can make a career of repairing and maintaining the U.S. Navy's nuclear-powered submarine fleet.
With 15 years of welding service under his belt at Portsmouth Naval Shipyard in New Hampshire, Brian Grant, Maine '00, doesn't take his duties lightly — nor the Beta Theta Pi connection that helped chart his course.

Born, raised and educated in Bangor, Maine, Brian was fascinated by machinery at a young age and credits his welding interest to the fabricated cars used on screen in the movie "Mad Max." His father worked on helicopters for Bangor's medical air ambulance, his uncle was a skilled mechanic, and the family had roots in the paper mills, so he was often around labor-intensive work.
While studying business administration at the University of Maine, Brian found a home in Beta Theta Pi and served as the chapter's house manager, ritual chairman and Convention delegate. Crediting the Fraternity for its support, he experienced a series of highs and lows in college that his brothers helped him through, including academic hard-ships and the loss of his mother.
Searching high and low for his dream job after college, Brian followed his passion for machinery and took a couple of jobs at motorcycle dealerships over the course of three years before realizing it wasn't the right career fit. Shortly after, Brian connected with a Beta alumnus who encouraged him to apply for a skills position at the shipyard. Following an extensive hiring process, he landed its welding apprenticeship.
"The importance of the craft of welding, and the skills and craftsmanship needed, was lost to me until receiving my on-the-job education and experiences working at the shipyard," he says.
"The stringent requirements and strict tolerances needed to ensure that the Navy's attack submarines can go in harm's way, perform their missions and return their crew home safely is something most people overlook or take for granted."
Having learned the craft, Brian says there are no typical days at the shipyard. Catering to the needs of machinists, electricians and toolmakers, each day brings a new challenge for him to problem solve. Best of all is the reward that comes from serving his country in a professional capacity.

"I did not qualify to enlist in the military due to surgeries when I was younger," says Brian. "But now I get to repair and maintain some of our country's most formidable assets so our submariners can defend our country all across the globe."
In addition to supporting his country, Brian served a three-year term as president of his local lodge of the International Brotherhood of Boilermakers, leading the union to help support a variety of organizations for veterans and children in the area.
Today, Brian's passion for welding has spilled over into his personal time, too. "Seven years ago, I was able to buy a home with a garage and start building my tool inventory up to where I could fabricate from home," says Brian. "I enjoy working with steel and creating objects that are aesthetically pleasing and perform a useful function to the owner. I keep my builds personal and unique."
The name of Brian's welding business? Red Dragon Welding. Not surprisingly, many of Brian's creations pay homage to his Beta roots, too.