TERRE HAUTE, Indiana — Pi Kappa Alpha Fraternity at Indiana State University conducted a Sycamore Celebration of the Division of Student Affairs to thank those student affairs professionals and campus student leaders who helped the chapter as it was colonized and chartered 40 years ago. 
The event was a joint effort by the undergraduate chapter, its Alumni Advisory Board, House Corporation, and Alumni Association on June 15 at The Grounds at Seventh and Locust; the Pi Kappa Alpha Residences and Education Center in Terre Haute.
The chapter was founded in 1979, a time when expansion was usually resisted by universities and/or their Interfraternity Councils. ISU's then-Greek Advisor, Shelley Sutherland, viewed expansion as a way of reaching out to students who might not otherwise have considered fraternity life, provided that the new chapter commit to a developmental mission, strict adherence to behavioral and academic expectations, and an ethic of respect and inclusion for all. Sutherland (Alpha Phi Sorority) went on to become one of the leading figures in the profession of fraternity/sorority advising, serving as president of the Association of Fraternity Advisors (AFA, now the Association of Fraternity/Sorority Advisors). Her graduate assistant during this period, Gayle Beyers Webb, (Delta Delta Delta Sorority) also served as AFA President, as did Mike Hayes (Pi Kappa Alpha Fraternity), one of the early members of the chapter at ISU. Dozens of members of that chapter have since worked for Pi Kappa Alpha nationally and/or have entered the profession of fraternity/sorority advisement.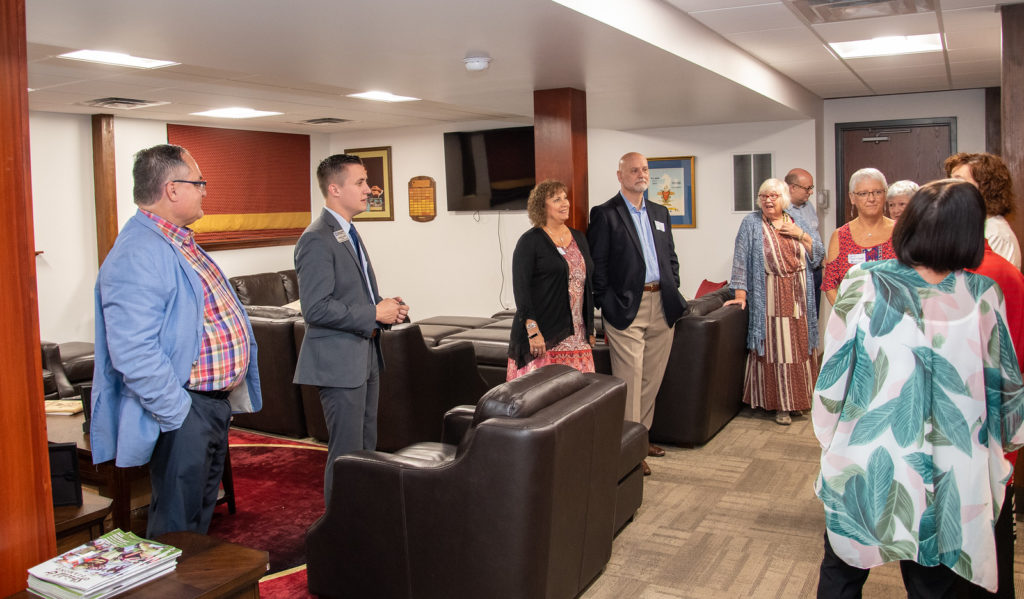 In addition to campus tours and presentations about Student Affairs at ISU Today (by Dr. Andy Morgan, Pi Kappa Alpha, and Interim Vice-President for Student Affairs at Indiana State), the main event was a reunion luncheon in the Pi Kappa Alpha facility and hosted by its undergraduates and alumni. In addition to the Student Affairs staff and campus leaders from 40 years ago, the current Student Affairs staff at ISU, and members of Pi Kappa Alpha at ISU now in the fraternity/sorority advising profession were invited and attended, as did the current undergraduate officers of the chapter. More than 60 people shared a luncheon program that included reminiscences from 40 years ago, reports about PIKES at STATE Today, to show those who invested in the chapter so many years ago that the values they espoused then remain the values of today.
Pikes at Indiana State in Spring 2019 were again first in fraternity grade point (3.243), first in chapter size (110 men on a campus where the average size is 43), heavily invested in community service and campus leadership (Master of Ceremonies for the event was the 2018-2019 Student Government President, Stephen Lamb, a member of the chapter), and blessed with an active Alumni Advisory Board of a dozen men, an active house corporation (which recently completed a $3.5 million renovation and expansion of chapter facilities) and alumni association. In its 40 years, the chapter has initiated 1,686 members and been recognized by the North American Interfraternity Conference as one of its Chapters of Distinction, awarded annually to approximately half a dozen of the nearly 6,200 undergraduate fraternity chapters in the U.S. and Canada.
The event was a way that the current generation could express their thanks in person to people they had only heard about in a historical context, and to acknowledge publicly the impact of these student affairs professionals on their lives years later.