Long before Nashville Predators General Manager David Poile stood in front of his peers and took his spot in the United States Hockey Hall of Fame, he was a freshman hockey player in an unfamiliar place.
Sure, he had moved around the country with his father his entire life because of his career in hockey, but enrolling at Northeastern University was a new chapter of Poile's life.
He had his hockey teammates to lean on, but he wanted to branch out and make more friends. David decided to join the Delta Pentaton Chapter of Phi Sigma Kappa.
"It was unusual," Poile said. "All the hockey players usually congregated together. I guess I was an outlier in that I joined the fraternity."
College-aged Poile would not regret his decision, expanding his social circle and gaining valuable experience he calls back to today.
"Obviously, I was very glad I (joined Phi Sigma Kappa) I was just trying to get more balance in my life and all my experiences at college. It worked out really well for me."
Soon after joining Phi Sig, Poile moved into the fraternity house, an unprecedented move considering most hockey players lived together. Living with his brothers expanded on his opportunities within the house, allowing him to participate in intramurals and take on leadership positions. Poile learned skills living in the fraternity that he still uses today.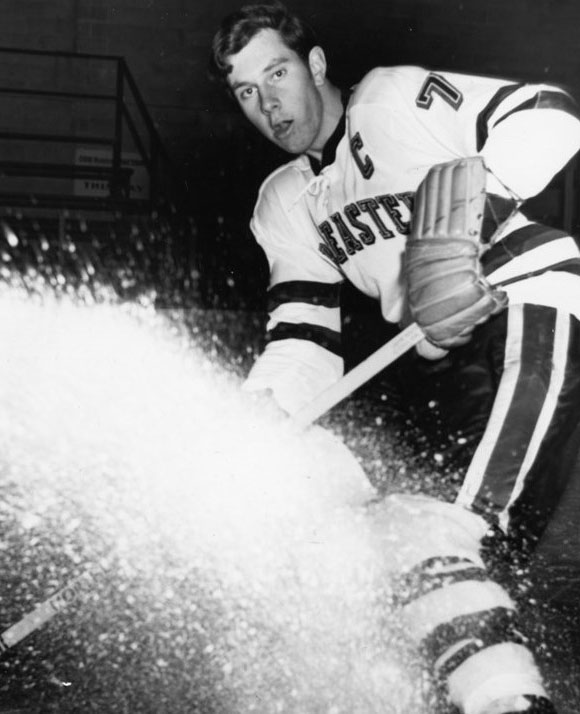 Balancing being a student-athlete and a Brother is no easy feat. But Poile pulled his weight at the fraternity and on the hockey team. Poile was an active brother in the house throughout his college years and his numbers as a player on the Northeastern hockey team were stellar. The centerman finished his NU career as the second all-time leading scorer, tallying 82 goals in three varsity seasons. He also served as captain of the Huskies his final two seasons in college.
Moving to the pros
Poile's career in an NHL front office began as early as it could. After one year of minor league hockey, he was given a role with the expansion Atlanta Flames. He would work his way to becoming the assistant general manager before being offered his first general manager job in 1982.
The young general manager took control of the Washington Capitals, a team that had not reached the Stanley Cup playoffs in its history. Poile quickly made his mark on the organization, making his first trade only a week into his new job. In the trade, Poile acquired future-Hall of Fame defenseman Rod Langway.
He spent the next 15 years of his career in Washington and gave the franchise its first ever playoff birth. The Capitals would make the playoffs 14 times under Poile.
At a crossroads in his career, Poile was presented with a unique opportunity he could not pass up. In 1998, Poile took the helm of the NHL's newest expansion franchise, the Nashville Predators. More than 1,000 wins later, Poile has cemented his legacy among the best NHL general managers in history. He led the Predators to their first ever Stanley Cup Final in 2017, a feat that earned him the General Manager of the Year award. In February 2018, Poile earned his 1,320th victory as a GM, the most in NHL history.
Outside of the NHL, Poile has served as the GM for USA Hockey, where his goal has been to grow the game inside the United States and build the country into a hockey powerhouse.
For his work growing hockey in the United States, Poile was inducted into the USA Hockey Hall of Fame in December 2018.
With his induction into the Hall of Fame, all his victories in the NHL and his many other accomplishments, Poile believes the best moment of his career is still ahead of him.
"It hasn't happened yet," he said. "It's when (the Predators) win the Stanley Cup."
Advice for the Future
Success did not just happen for Poile. His work ethic, his competitive nature, and his ability to plan ahead helped him earn all his accolades.
"You have to be as consistent as possible," he said. "As a manager, you need to be a planner, you need to have some foresight into the future. The game that we played last night was the most important thing. But that is in the past. I have to have a plan for the rest of the season, the next couple season, both from a player standpoint, financially, our development process, all those things. You have to be as consistent as possible which goes back to your work ethic. The worst thing you could ever say to me would be that I got outworked by somebody. I don't want to be outworked by anybody."
When Poile looks at the next generation of professionals, he believes the key to success is keeping an open mind, earning your opportunities and taking advantage of the situation presented to you.
"You have to be open-minded about the opportunities that are presented in front of you. Once you are given those opportunities, you've got to do whatever is asked of you. I sometimes see in this generation, working with younger people, that they move around from one job to another, which is different than my generation. I have been in the same line of work. You have to set your own work ethic. From a communication standpoint, when somebody reaches out to you, you get back to them as soon as possible. If you are going to have relationships and work in an industry like I work in, you have to have relationships. It's a work ethic. When I worked for my boss, I always got in before him every day and then I stayed after he left. He recognized that and gave me opportunities that other people just weren't getting because they just weren't available all the time."
"So, to me, it is just simple things that helped me be successful."