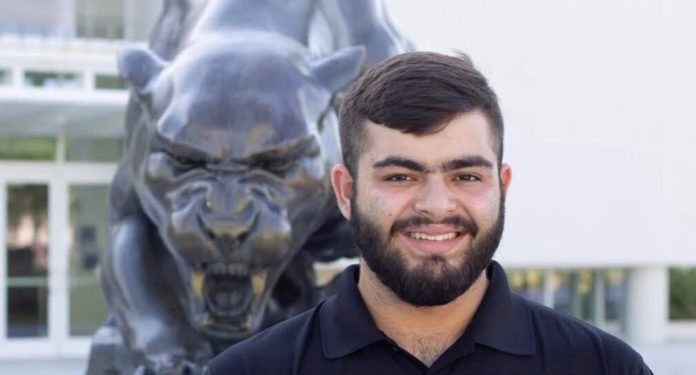 One of the nation's youngest experts on slip and fall prevention happens to be a junior living at Modesto A. Maidique Campus.
At 20 years old, pre-med student Jacob Covas is busier than most his age. The president of FIU's chapter of Jewish fraternity Alpha Epsilon Pi is also an Emerson Fellow with StandWithUs, an Israel education organization. His role puts him in charge of advocacy within the campus and his involvement spans across several Jewish communities in and out of FIU.
"Jacob is very much the face of FIU's Jewish community," says Rabbi Shmuel Berkman, who oversees Yehudi @ FIU, a Jewish student society on campus.
"No matter what Jewish program or event you attend, Jacob's smile is among the first greetings received. He has proven real commitment to building Jewish life and the Jewish community on campus."
The pre-med student who is a biology and history double major at FIU has worked as a medical apprentice to various doctors in Baltimore, regularly traveling to shadow physicians specialized in cardiology, emergency medicine, podiatry and more.
Covas' enthusiasm for medicine stems from his own struggle with illness. As a young child, Covas suffered from croup, a respiratory infection that caused his airways to close up, hampering his breathing. He spent his childhood in and out of hospitals treating his condition and grew to idolize the doctors that were treating him.
"I became entranced with everything they [the doctors] were doing at the hospital," says Covas. "I started to enjoy just being there and see them basically save me."
Covas says this experience sparked his goal to become a doctor and help others heal.
"It made me realize the importance and responsibility of being a doctor. I wanted to be able to do that and make sure that little boy coming in a 4 o' clock in the morning once every couple of weeks is able to breathe again."
His leadership and advocacy efforts on campus led him to his medical apprenticeships.
Through Berkman, Covas met Rabbi Zvi Schwartz, the director of jInternship, which partners with more than 1,200 companies to provide Jewish students and graduates internship opportunities in various fields like engineering, business and medicine.
"Jacob is driven to succeed as a medical practitioner," and has "a strong desire to help others," said Schwartz. "He deserves only the best and the top doctors available to train under."
Moved by Covas' passion for medicine, Schwartz connected him with doctors in Baltimore for apprenticeships.
One of them, Dr. Levan Atenelov, is an associate professor at John's Hopkins University and founder of the Steady Strides Institute, a fall-prevention research institute and clinic.
A physiatrist, Atenelov has studied neurology, cardiology, orthopedics and more to identify the root cause of slips and fall and how to best treat and prevent them.
Last summer, Covas shadowed Atenelov three days a week, 14 hours a day. He'd assist with his research and also meet one-on-one with patients.
Covas quickly became familiar with the ins-and-outs of slip and fall prevention. Atenelov's treatment, says Covas, is 85 percent effective at reducing the number of falls in patients — an impressive rate considering the national average is at 18 percent.
"If you were having 100 falls a year and you came to another doctor you're gonna have 72 falls a year but with Dr. Atenelov that number would fall to 15," he says.
Some of Atenelov's patients were chronic fallers with up to 400 incidents a year. His treatment is tailored to each case and could include Botox injections to steady the patient's foot —along with neuromuscular therapy and intensive nerve studies.
Due in part to the expertise he acquired working with Atenelov, Covas later worked for the Maryland Falls Free Coalition, writing informative brochures on slip and fall prevention.
He also shadowed cardiologist Dr. Jerald Insel and worked night shifts with Dr. Dov Frankle, an emergency medicine physician. He says the fast-paced environment excited him and helped him realize he too wanted to work as an emergency doctor.
"As an ER doctor, every decision you make can either save or take a life," Covas says.
"I really appreciated being able to work with Dr. Frankle. Watching one of the best people in the country perform their job and being able to learn from him was really inspiring."
After graduating, Covas plans to attend medical school and aspires to work in the Middle East as an emergency doctor helping victims of war in countries like Syria, Iraq and Lebanon.
Until then, he wants to seize as many opportunities as he can, both in medicine and in his activism. He encourages students on campus to take advantage of its many clubs and communities.
"This is such a big institution with deeply rich student communities. All you have to do is seek them out and they will be there for you," he says.
Rabbi Berkman agrees, adding that college is the perfect time for students to immerse themselves in new, challenging experiences.
"It is so valuable to understand that we are a part of something so much bigger than ourselves and that every individual really has the potential to impact the world," adds Rabbi Berkman.
"Students are in university for a relatively very short time — four, maybe five years — they will be part of a community for a lifetime."