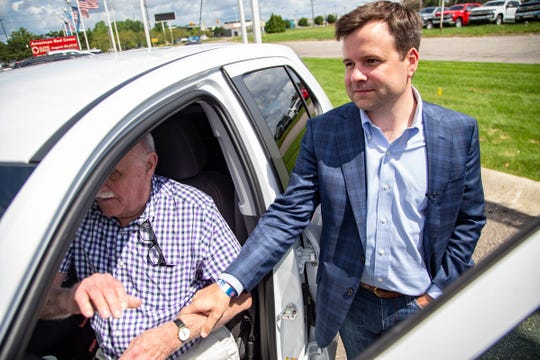 Bill Pulte, grandson of the late founder of home-building giant PulteGroup, a company that started in Detroit nearly 70 years ago as Pulte Homes, rose to social media stardom this summer by giving away money.
The 31-year-old Pulte is a Pi Kappa Alpha brother who is married and lives in Oakland County, launched his highly visible philanthropy campaign by using Twitter to document his acts of giving, oftentimes stunts such as handing cash to strangers in parking lots, giving away free cars or announcing that he would give $30,000 to a military veteran if President Donald Trump gave him a retweet.
The president did just that on July 10, tweeting "THANK YOU BILL" to his own 63 million Twitter followers.
Pulte says he is doing charity with money that he earned — not inheritance from his renowned grandfather William Pulte, who died last year at age 85.
"Most people don't know this, and it's not necessarily worth me convincing them, but I actually became wealthy independent of my grandfather and independent of my family," said Pulte, who owns a Pontiac-based private equity firm. "The great majority of my wealth is money that I earned on my own. It's a lot of money."
Pulte is now attempting to parlay his charitable giving and legion of social media followers — still under $1 million and 1 million, respectively — into a far-reaching movement of people who are willing to make contributions of their own to help the many needy individuals whose stories he spotlights on Twitter. 
Some of the beneficiaries of Pulte's crowd-sourced charity have included injured veterans, a family living in a car, a colon cancer patient who faced eviction, teachers in need of classroom supplies and the relatives of 9-year-old Emma Hernandez, who was killed Aug. 19 in a dog mauling while riding her bike on Detroit's west side.
Pulte calls himself the "Inventor of Twitter Philanthropy" in his Twitter bio and presents the outward manner in real life of a man two decades older.
He said he has a team of more than 10 people who help field and vet thousands of charity requests, many of them for medical-related expenses.
"What I'm trying to do is inspire other people to give. Even if I gave away several million dollars, that's just a drop in the bucket compared to the total need in the country," he said. "And so what I'm more interested in is how do we motivate thousands, or tens of thousands or hundreds of thousands of people to help their fellow Americans."