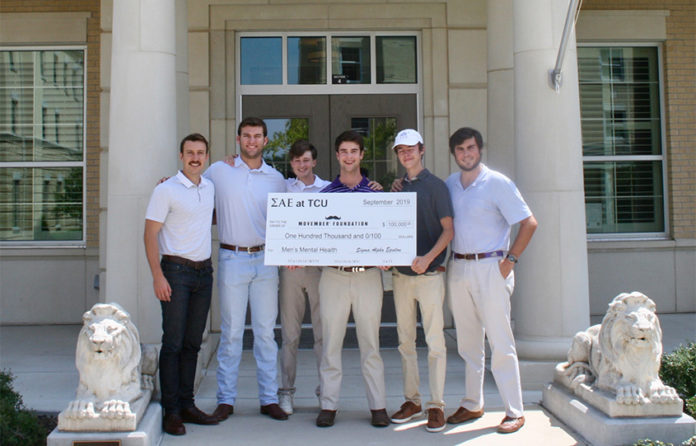 With 3 out of 4 suicides being men, the fraternity men of Sigma Alpha Epsilon (SAE) at Texas Christian University have stepped up to make significant impact for men's mental health. The generous gift of $100,000 comes from the Texas Beta chapter of SAE at TCU located in Fort Worth, Texas. The funds will be invested in mental health initiatives specifically focused on improving the mental wellbeing of college aged men.
SAE Chapter President, Stuart Young, stated, "Mental illness is often overlooked sometimes due to the lack of overt warning signs, but it remains a very important issue in our society that we hope to bring more recognition to and affect positive change. Unfortunately, many times when you hear news about mental health issues, it is in the wake of tragedy. Just last fall on the TCU campus, our community was shaken by a heart-wrenching suicide in our own Greek Community."
J.T. Powers, SAE Philanthropy Chair has also stepped up to be a Movember Student Ambassador on campus and is committed to growing support for Movember. "We chose to support Movember with their mental health and suicide prevention initiatives because we felt like they had a firm understanding of the issues on college campuses," says Powers. "We have made it our mission to use the great tools that our Fraternity's brotherhood, resources, and mission gives us, so that we can move forward to make our community and the world we live in a better place."
TCU's participation in Movember goes far beyond SAE's generous donation – the entire Interfraternity Council (IFC) has been involved since 2015, raising over $170,000 for men's health. In 2018, with the hopes of intentionally starting conversations around men's health issues on campus, the fraternity chapter presidents unanimously passed a bylaw requiring each fraternity to participate in the Movember campaign.
"The effects of the work that we have done has been visible. More than just fundraising, Movember lets men know that it is okay to have health issues as a man. One of my longtime buddies has struggled with depression for a long time and working with Movember has opened doors to conversations leading to positive change in his life," stated TCU IFC Vice President of Philanthropy and Movember Student Ambassador, Greyson McDonald.
On behalf of the entire Movember community, we are thankful and inspired by the fraternity men at TCU and we will continue working toward our shared vision to change the face of men's health.
To learn more or to get involved on your campus, please contact Robert Huffman (University Development Manager) at Robert.Huffman@Movember.com.