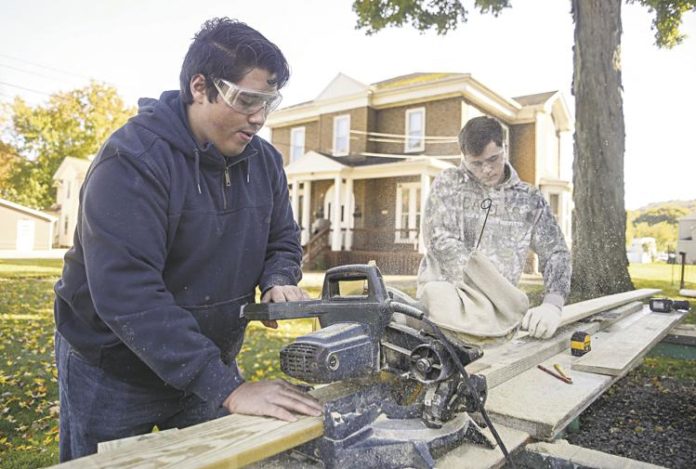 Allegheny College Phi Kappa Psi members Thomas Uranga (left) of Los Angeles cuts a board for a ramp while Brandon Bolling of Erie removes staples from the ends during Make A Difference Day on Saturday morning.
Sandra Ritchie of Meadville, Pennsylvania, was the beneficiary of a new ramp installed at her homeby volunteers last weekend. Half of it was covered by the Volunteer lead Don Schmalzried and more than half a dozen members of Allegheny College's Phi Kappa Psi fraternity were installing as part of the 26th annual Make A Difference Day.
Coordinated through United Way of Western Crawford County, the event drew 740 volunteers who participated in 85 projects. Ranging from leaf raking and general yard maintenance to roof tarring and constructing accessibility ramps like Ritchie's, the projects stretched from Cochranton to Espyville and up to Linesville and Conneautville as well. While most were completed Saturday, some take significantly more time and, despite the event's name, the entire operation requires weeks and weeks of logistics of preparation and organization, according to Marisa Lines, executive director of the local branch of the United Way.
Busy volunteers clustered at the back of Schmalzried's oversized van in Ritchie's driveway, where sawhorses and a chop saw were set up, others were bent over the growing ramp in front of the steps to the green-roofed porch and still others could be heard from the tops of ladders around the back of the house where they were checking Ritchie's gutters.
Some, like Allegheny sophomore Thomas Uranga, who was operating the saw, came into the project with helpful skills. The Los Angeles native is the son of a carpenter and while he was participating in Make A Difference Day for the first time, he said he had worked on similar projects in the past.
"I find this to be fun, doing this every once in a while — building stuff," Uranga said of the project.
Nearby, Uranga's fraternity brother Brandon Bolling, 20, of Erie held a 4-by-4 support post as Schmalzried attached a joist. The sophomore said he was learning a lot on the project and was enjoying the opportunity to contribute to the community.
"A bunch of us getting together and doing a bunch of this community work, I don't know, it just brings us even closer, all having fun," Bolling said. A second later, he smirked and called his explanation a "corny answer" — but he didn't change it.
"This is such a blessing," Ritchie said. "These young people are just a godsend."