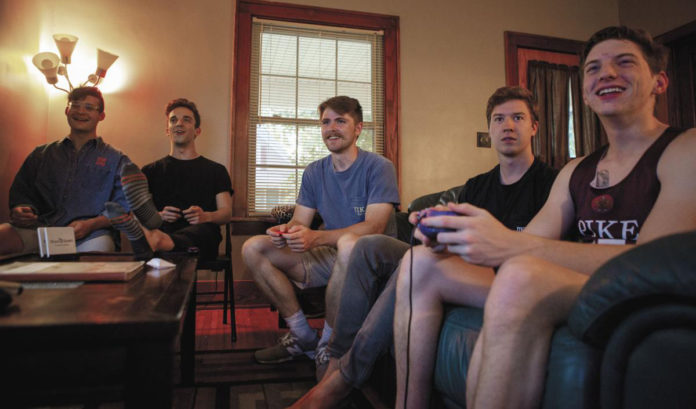 It's possible to feel at home on a large college campus without having an actual house, which is something that several fraternities at the University of Nebraska-Lincoln know all too well.
There are 11 fraternities at the University of Nebraska-Lincoln without a university-approved house including Pi Kappa Alpha and Sigma Alpha Mu, according to Leigh Thiedeman, director of the Office of Fraternity and Sorority Life at UNL.
Despite not having a central location on campus, these fraternities still remain tight-knit.
Pi Kappa Alpha
For the members of Pi Kappa Alpha, commonly known as Pike, the lack of a house has no effect on their friendships with one another.
Liam Carroll, a senior violin performance and pre-med double major and president of Pike, said no housing units were available on campus and no property was for sale when the UNL chapter was started in 1999. He said there have been few opportunities to move on campus since then.
Carroll said he feels having a house on campus would be beneficial to the long-term standing of UNL's Pike chapter.
"A house provides a centralized location for active members, as well as a location for alumni to come back to," Carroll said.
Caroll said all of Pike's freshmen members live on campus while most of the upperclassmen live in off-campus apartments or houses. He said the lack of a house doesn't affect their relationships because they usually live with other Pike members anyway.
Additionally, he said Pike's chairman organizes events like Super Bowl watch parties, dodgeball tournaments and paintball.
"Brotherhood forms organically through the friendships made in the fraternity," Caroll said.
Carroll also said he believes a house doesn't define a fraternity.
"There are plenty of poor-performing chapters with houses and high-performing chapters without houses," he said.
Sigma Alpha Mu
On a typical day, the 10 members of Sigma Alpha Mu discuss topics from memes to football — but not on campus.
The Sigma Alpha Mu house, established when the UNL chapter was founded in 1920, no longer exists, according to Gage Petersen, a sophomore political science major and the fraternity's academic and recruitment chair.
Sophomore English major Ben Leathers-Arnold, the fraternity's public relations, recruitment and alumni chair, said the Sigma Alpha Mu UNL chapter disbanded in the early 1990s, and its house was sold to build a parking lot.
The Sigma Alpha Mu chapter was reestablished in 2006 by a few members who wanted to live in a house by themselves, according to Petersen. He said the members didn't work well together and agreed to sell the land for the house to the university.
Some of the members live in an off-campus house that they rent together, while others live on campus, Petersen said.
"It's not as glamorous as having a big fancy mansion on campus, but it serves its purpose of being able to provide a place for our members to hang out," he said.
Leathers-Arnold said he feels there are upsides to not having a house on campus, like paying cheaper dues compared to fraternity members living on campus.
"They're just under $600 [per person, per semester]," he said. "This means none of our guys have to spend extra time working for money when they could be focused on being successful in their studies."
Petersen said he tries to make potential new members look beyond the lack of an on-campus house and look at the benefits of being in a tight-knit fraternity.
"We try to turn our perceived weakness into a strength," he said, "explaining that since we're small, you will know every member of our fraternity very well, from their major to their background to 'Are they good at Mario Kart?'"
Leathers-Arnold said he admits that recruiting new members is difficult without an on-campus house because most potential members he encounters would prefer to live in a house.
"[Having a house] would make recruitment and rush events far more appealing to the incoming freshmen and would essentially ensure that, with a little effort, we could keep our fraternity from ending," he said.
Like Petersen, Leathers-Arnold said he would like to have a house on campus to better recruit new members and hold larger philanthropy events, but he recognizes the potential risk of having one –– losing the bonds that define Sigma Alpha Mu.
"If we did [have an on-campus house], I'm sure we would get a different group of people than we have right now," he said. "No matter what, though, our values are what we look for when we recruit."
Leathers-Arnold said he feels having an on-campus house isn't an important aspect in establishing that culture.
"I would be able to say, almost without a doubt, we are the closest fraternity on campus," he said. "We all know each other; we all share the same experiences. We laugh together, eat together [and] are extremely diverse. But, mostly, we are a family."
Petersen said he feels a house does not define the authenticity of a fraternity.
"Houses are just wood and stone," he said. "It's the bonds forged by the people within them that allows a brotherhood to endure when they fall down."