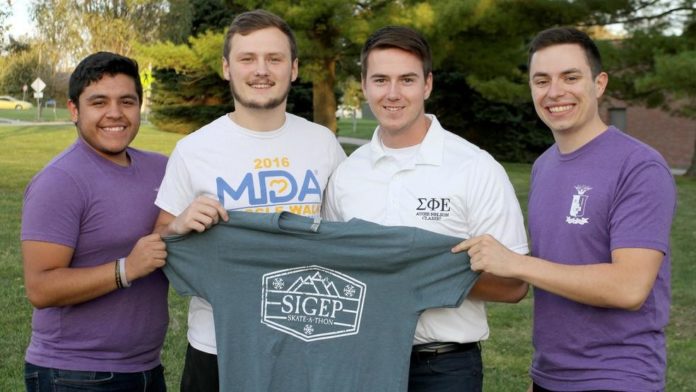 KEARNEY, Neb. — A University Of Nebraska at Kearney fraternity hosted their annual Skate and Walk fundraiser Sunday evening to raise awareness and money for the Muscular Dystrophy Association.
Muscular Dystrophy is a group of diseases that causes progressive weakness and muscle loss.
Members of UNK's Sigma Phi Epsilon fraternity host the Skate and Walk fundraiser to raise money for those affected.
This year the fraternity said they did things a little different than they had in the past by partnering with Kearney High's DECA, another organization that supports muscular dystrophy.
According to member's of UNK's fraternity, this allowed them to raise over $3,000 prior to their event tonight.
"Normally it used to be just kind of a regular walk," said Agustine Ruvalcaba, a fraternity member. "That's how it originally was back in Cushing and back at UNK but a couple years ago they switched it up and started making it into an ice skating rink and its attracting more people and its just become bigger and bigger each year."
All proceeds from the event also support sending kids who have Muscular Dystrophy to a summer camp in Nebraska.
Members of the fraternity said it cost around $1,000 just to send one person to the camp.
"There's just a whole bunch of different opportunities for these kids," said the fraternity's philanthropy chair, Corey Johnson. "They do drawing, they do puzzles. They're just hanging out with each other. They're staying up late and having a great time. There's no phones or electronics allowed other than just the necessary things, so it kind of gets them into the nature and gets them to do things that they wouldn't normally get to do on a regular basis."
According to Johnson they were able to raise over $7,000 for the non-profit.
He said with that money they'll be able to send about seven kids to camp this summer.