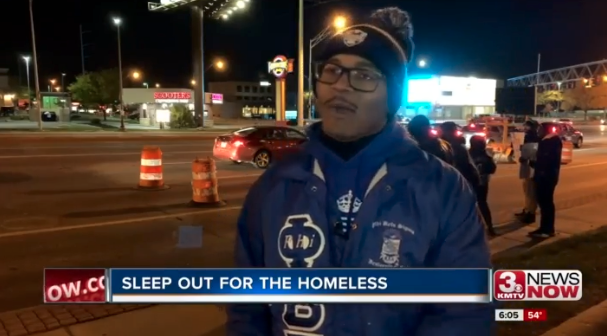 OMAHA, Neb. (KMTV) — If you drove by 72nd and Dodge overnight, you couldn't miss them. At any given time from 9 p.m. to 5 a.m., around a dozen people were standing on the sidewalk, waving signs and braving the chilly weather.
"Homeless people deal with this every night, it's cold out here, they don't have a place to go and it's just interesting to put myself in that place where I don't have a place to go," says Ashley Swift, a member of the Zeta Phi Beta sorority.
"First time, I stayed out, it was rough, trying to stay out until five, over time, you get used to it, we try to entertain ourselves," says Courtney Collins, active undergrad president of Phi Beta Sigma.
Despite being cold and groggy, the group stayed upbeat and seemed to be having fun.
But the reason they're all standing on the street corner is quite serious. About 2,000 people are left homeless in Omaha every single night.
So the overnight campers, do what they can, collecting food, clothes and money. At the same time, hopefully reminding those with roofs over their head, that there are plenty in town, who don't have that luxury.
"When there's a surge of wealth there's also a surge of poverty in addition to that, so I think it's important that we're reminded that we're all in this together," says Shomari Huggins of Phi Beta Sigma.
They picked this spot on 72nd and Dodge for a reason, it's close to UNO, but also it's a very busy intersection, so they can try and recruit people to donate to their cause.
"I'm getting them, I'm in their grill, I know some people think they might hit me so they're kind of gripping their steering wheel kind of tight, but it's all good," says Huggins.
"There was a lady, I'm pretty sure she bought out the whole travel section with toiletries and stuff, and she dropped that stuff off," says Collins.
By the end of the night, homeless folks will certainly have more food and clothing. But those collecting the goods, are eventually hoping for a more long-term solution.
"I mean, ultimately, we shouldn't have to do this every year," says Huggins.